Vintage Psion prototype: Yours for £85,000
Worst paperweight ever
An unreleased Psion prototype can be yours for a mere £85,000 - if you hurry. Just don't expect it to do anything.
The item listed on eBay dates from 2001, and is a prototype of "Conan", the monochrome Revo model with Bluetooth that was due to ship that summer, based on Symbian (nee Epoc) Release 6.
Don't expect it to do much, even if you can get it to power up - ER6, which supported Unicode, broke binary compatibility with earlier Epoc-based Psions. The device never reached the market - Psion withdrew from the consumer market in June 2001.
A few dozen Bluetooth Revos were made, and one pops up every couple of years, typically fetching around £30 to £50. As you might expect, this is a publicity stunt/punt by PsiXPda's Paul Pinnock, who founded a Psion repair and service centre in Croydon in 1995 and still services and sells the ancient devices.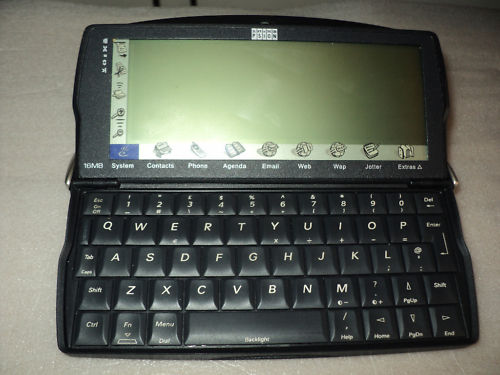 The Bluetooth Revo: yes, that really is WAP
A couple of years ago, Pinnock rebadged a UMPC running XP and sold it under the (PsiXPDA brand (review)). He tells us it sold out its 2,000 unit production but it was no Psion, and Pinnock now admits it was "not fast enough and not good enough".
Pinnock now plans to launch a new device in the pocket-sized Psion Series 5 MX form factor, running Android. A better choice for this kind of device, we would agree.
The conventional wisdom is that mechanical keyboards are going the way of the VCR, and that the virtual keyboard provided on a full touchscreen is good enough. RIM recently lowered sales forecasts for devices with its hallmark integrated physical keyboard, leading to its shares being downgraded. But nothing on the market allows you to touch-type (rather than hunt and peck) and also fits in a jacket pocket - and hasn't since the palmtop market disappeared with Psion's consumer PDAs a decade ago.
You'd think in an era of Twittering and high volume messaging, a device that meets such a demand might carve out some sort of niche. ®
Related Links
Our Psion History
Our Symbian History: Parts One, Two and Three
Sponsored: Detecting cyber attacks as a small to medium business