Orange eco T-shirt boosts Glasto goers' blowers
Put on a charge
Orange has once again dived into this year's festival season with a nifty eco-product for charging mobile devices – a T-shirt that uses sound energy to produce an electrical charge.
The shirt packs an A4-sized piezoelectric film, a material that has found a use in speakers. By reversing this application so that the film behaves as a microphone, soundwaves are absorbed and converted into electrical energy. The T-shirt comes with various interchangeable cables to support charging common handset makes.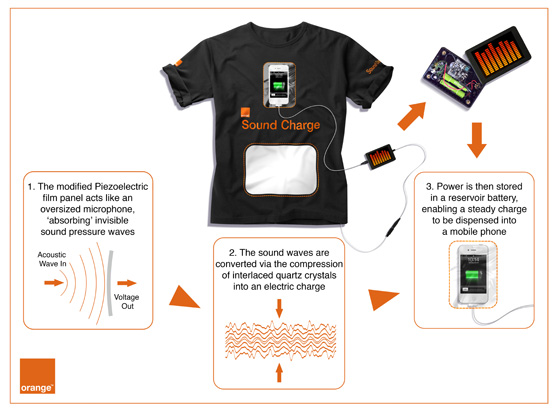 All delicate organs can also be easily removed for a safe wash, not that you'll be doing that at a festival - have you seen those queues for the showers?
Last year, in another venture with Orange, the company behind the design, GotWind, put together some wellies that charge phones, producing electrical charge by converting heat generated while stomping.
As with the wellies, the 'Sound Charge' T-shirt will be debuted at one of many Orange 'Chill 'n' Charge' tents around the Glastonbury festival site.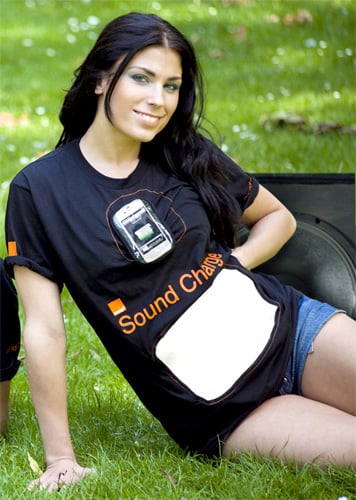 Apparently over the course of a weekend, the T-shirt will only produce enough energy for roughly a single smartphone recharge, so it will probably follow in the footsteps of the wellies by remaining a non-commercial product.
However if you do find yourself out of power and sober enough to move at Glasto, head down to the local Orange tent and ask the team for a juice boost. They've got charging phones down to a tee. ®