Rare video: Moon flashing in front of giant's face
Mars probe, Phobos, Jupiter in one-off conjunction
Vid Boffins at the European Space Agency are hugging themselves gleefully after capturing a dramatic vid from a space probe in orbit above Mars which shows the Martian moon Phobos zooming across the backdrop provided by gigantic Jupiter.
As readers will appreciate, the vid isn't all that stunning in and of itself: but we're talking here about footage taken from a robot probe (Mars Express) orbiting another frickin' planet and featuring not just one of the hurtling moons of Mars but also a titanic gas giant of the outer system.
According to the ESA:
At the moment when Mars Express, Phobos, and Jupiter aligned on 1 June 2011, there was a distance of 11 389 km between the spacecraft and Phobos, and a further 529 million km to Jupiter.

The High Resolution Stereo Camera on Mars Express was kept fixed on Jupiter for the conjunction, ensuring that the planet remained static in the frame. The operation returned a total of 104 images over a period of 68 seconds, all of them taken using the camera's super-resolution channel.

By knowing the exact moment when Jupiter passed behind Phobos, the observation will help to verify and even improve our knowledge of the orbital position of the Martian moon.
The ESA also provided this handy pic illustrating just how Mars Express and Phobos were situated when both came into line with Jupiter on June 1.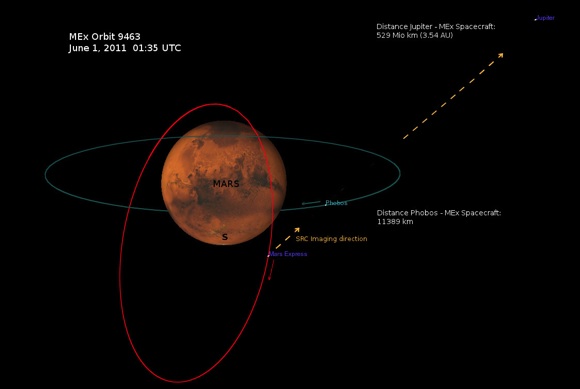 What do you mean you didn't turn it ... oh ha ha, very funny
There's more on Mars Express from the ESA here. ®
Sponsored: Detecting cyber attacks as a small to medium business