Intel 510 250GB Sata 3 SSD
Performance benefits
Review Having recently covered Crucial's new M4 SSD, it seemed only natural to go further in-depth with it's Intel counterpart, the 510 series. Both of these drives feature Marvell's 88SS9174 controller, with the Intel drive using the BKK2 revision, and a SATA 6Gb/s interface.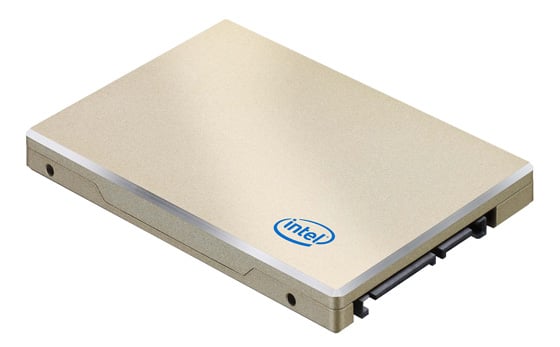 Sata 3 performer: Intel's SSD 510
Intel and Crucial's drive are more similar than just that though. Crucial's drives are manufactured by its parent company Micron, that produces NAND flash with Intel in a joint venture. So how different can these drives be from a consumer perspective?
While Crucial's drives are available in sizes ranging from 64GB to 512GB, Intel is only offering the 510 in 120GB and 250GB capacities. Despite focusing its manufacturing on just two versions, Intel is asking a fair bit more for its kit. You'll find yourself parting with £225 for a 120GB drive and £425 if you want 250GB.
On test is the 250GB drive, which Intel claims is capable of 500MB/s (20K IOPS) reads and 315MB/s (8K IOPS) writes – a considerable increase on what Crucial claimed out of similar hardware.
Before delving into the more complex performance statistics of this drive, the table below offers a quick real-world comparison between Intel's 510 and Crucial's M4.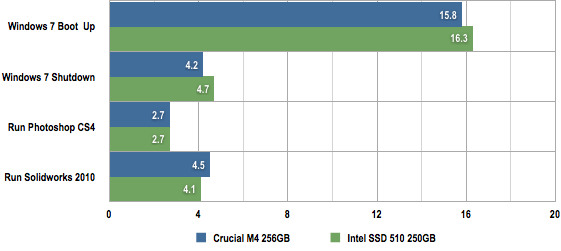 Load times in seconds
Shorter bars are better
While you probably won't notice the difference between these drives in such general operations, they are clearly superior to the old magnetic platters that probably still populate your drive bays. And if you've the cash and don't require an excessive capacity, then surely an upgrade beckons.