Quantum pounces on Pancetera
Go go for VM backup to DXi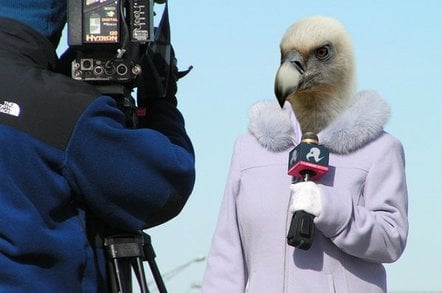 Quantum is buying virtual machine backup specialist Pancetera for a measly $12m.
It's not even $12m cash as $3.6m of it is in the form of 1.2 million Quantum shares. What Quantum is buying is "a virtual appliance that can reduce virtual machine backup I/O load by up to 80 per cent, and lets sysadmins move virtual machine files as easily as browsing a Windows network drive... It treats virtual machines (VMs) as files in a single virtual filesystem and presents them as such, in directories, instead of them being on different ESX hosts and different types and makes of storage."
Pancetera's product can already send backup files to Quantum's deduplication backup to disk product line, the DXi, and it will be integrated more tightly with the DXi line and with Quantum's StorNext file management and virtualisation software longer term.
Quantum gets faster VM backup and customers get that plus deduplicated VM backup files. CEO Jon Gacek says the acquisition will help Quantum broaden its customer base; we reckon it can compete with Veeam for a start, saying: "Together with our DXi deduplication and replication appliances, Pancetera's technology allows Quantum to offer higher performance, easier-to-use, and more cost-effective solutions for managing and protecting data in virtual environments."
Most of the Pancetera team is joining Quantum, including co-founders Mitch Haile (CTO and Product Management VP) and Greg Wade (Engineering VP), as well as the CEO, Henrik Rosendahl.
Quantum's release says: "Virtual machines (VMs) contain large amounts of redundant data, and most backup applications store this data many times over, consuming storage and server resources, extending backup windows and consuming network bandwidth."
Being able to back this stuff up fast and efficiently is a good thing and Quantum reckons it will be bake to sell its products better into 24x7 virtual server sites, handle remote offices better, and offer better disaster recovery options. For example, customers will be able to deploy turnkey solutions at remote sites and replicate to central locations with big fat deduplicating DXi data tubs.
The company believes that the acquisition will contribute to fiscal 2012 revenue growth by broadening the company's DXi solution set. The transaction is anticipated to increase Quantum's quarterly non-GAAP expenses by approximately $1m, mostly in research and development.
It expects the acquisition to increase operating profit by the end of fiscal 2012. ®