Yorks PC maker goes titsup owing £1m+
Little chance of payout as PC maker faceplants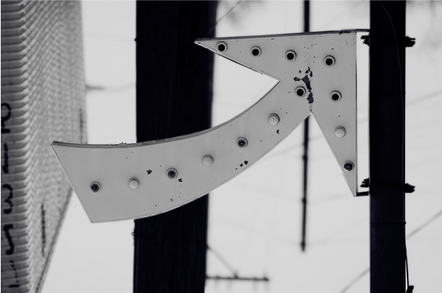 West Yorkshire-based Cube Enterprises has gone under owing more than £1.2m to trade and expense creditors, the Reg has learned.
The Wetherby firm went down in May, but a director's report presented to creditors at a meeting on 9 June revealed creditors were unlikely to recoup monies owed, resulting in anguished howls from the attending distributors who questioned where the money had gone.
The Cube report leaked to El Reg blamed its demise on long term deflationary pricing; shifting consumer demand to tablet devices; a failed attempt to move into component reselling and households' falling discretionary spend.
In spite of these glaring issues, director Robert Drye had pinned all his hopes for the future on developing a hardware configuration tool to let customers spec PCs individually.
He planned to push this to web-based and independent shop front retailers and their customers with Cube building the machines at the back-end, but the strategy required a "lot of time and money", the report stated.
The configuration tool launched early this year, but the complexities of integrating it into retailers' systems "was going to take a further 12-18 months" and Cube sought financial advice from accountants PR Booth & Co in April.
The firm turned over £5.9m in the year to 31 March 2011 and posted a loss before tax of £745,000, a net loss of £970,000 and negative assets of more than £680,000.
Trade & Expense creditors, classified as unsecured non-preferential claims are owed £1.2m and the estimated deficiency is £1.36m, the report revealed.
The biggest creditors include Computer 2000 (£314,000), Ingram Micro (£215,000), Enta Technologies (£101,000), VIP (£90,000) and Avnet (£86,000).
The system builder market has got form - remember the collapse of Time/Tiny, Elonex, Evesham Technologies and more recently Mesh - so it is amazing that credit bods working in distribution have not learnt the lessons of the past.
Jon Atherton, group vice president at Enta Group, claimed the "majority" of its debts were covered by credit insurers. However, he warned other UK system builders of the need to "diversify" beyond shifting boxes and into IT services or plough a furrow in verticals rather than competing on price against the global PC monsters.
The demise of system builders was a trend that is likely to continue, said Sukh Rayat, senior veep at Avnet Technology Solutions, which added it also had credit insurance.
VIP Computer Centre director Dave Stevinson said: "Having read the director's report for the creditors and thus having the benefit of hindsight, it appears to be a flawed business plan which was poorly executed leaving the unsecured creditors with debts of in excess of a million pounds".
C2000 and Ingram Micro were unavailable to comment at the time of writing. ®
Sponsored: Becoming a Pragmatic Security Leader