Cornish cow plucked from jaws of death by Navy chopper
'A Mooooving experience', says rapier-witted chief
A Cornish cow, trapped on steep cliffs near Port Isaac, was hoisted to safety recently slung beneath a Royal Navy rescue helicopter.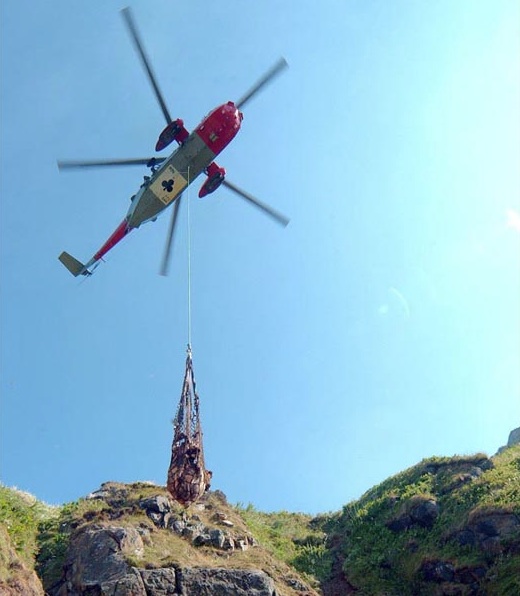 West-country whirlybird flying cattle action.
Had the naval copter not been called in by the RSPCA, the trapped bovine would have had to be killed as it could not escape by any other means.
The chopper was from 771 Naval Air Squadron based at the nearby Royal Naval Air Station Culdrose and was piloted by Lieutenant Commanders Martin Shepherd and Tim Hayden. Chief Petty Officer (CPO) Mark Shaw and Sergeant Tony Russell Royal Marines were landed at the cliff tops and lowered down to where the cow had become trapped with assistance from the Port Isaac Cliff Rescue Team, with a vet and the farmer in attendance.
CPO Shaw and Sergeant Russell, assisted by the vet and the farmer, managed then to get the understandably agitated cow into a large cargo net, fortunately without precipitating the hapless bovine or themselves the rest of the way down the cliff.
The pilots then brought the chopper overhead and its winch line was successfully attached to the cow's net by lifting strop. Minutes later the unfortunate beast had been hoisted clear and deposited in a nearby field unharmed.
"The ability to load-lift is a vital role for the squadron," explained 771 NAS' commanding officer, Lieutenant Commander Chris 'Damage' Canning, though he confessed that his people were "more used to underslinging fuel, food, water or vehicles".
Chief Shaw apparently couldn't be prevented from saying: "I thought it was a mooooving experience." ®