Win8: A beginner's guide to FondleWindows
Tiles for fat fingers, drag 'n' snap, but no meta-widget ambitions...
Two thumbs are better than...
The new apps are obviously designed to be used with a fat finger, on a conductive screen. The old apps are best used with a mouse, or at least, a complex set of key combinations. And obviously there's a level of indirection – you use a tool to steer an intermediary (a mouse cursor or caret) to a point on the screen, which might be another intermediary (such as a scroll bar). Direct manipulation interfaces don't: if you want to scroll down, you push the page down. So at what point does a mouse become necessary?
In Microsoft's first demonstration of FondleWindows, office applications are OLDAPs, and haven't been updated to the new design. But we already know what they'll look like, as Office 15 too uses the WP7 look. That doesn't tell us how it will feel – since it's a cosmetic, WP7-style makeover. How it will work in a finger-friendly, direct manipulation UI is anyone's guess at this stage.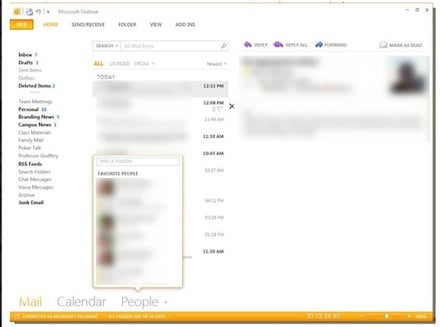 Leaked screenshots show Office 15 gets lots of white space. Pic: winrumours
As even the iPad's biggest fans might admit, while it's a terrific viewing device, for office work it's actually a sub-optimal UI, for now. Nothing beats a mouse and a rich UI designed for a mouse. I can't see anyone on a Fondleslab (of any kind) matching a laptop Office user for "productivity". (I use scare quotes because a lot of Office work is non-productive – but you get the point.)
Microsoft is dealing with this challenge by ducking it – and I can't blame them. "There's a lot of utility in Office," said Julie Lawson-Green in the debut demo this week.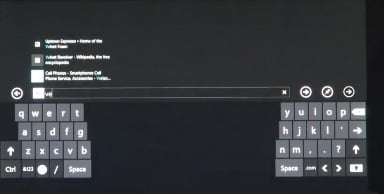 One nice feature is that as well as the usual QWERTY, you can use a "thumbs" keyboard.
You can watch Microsoft's official video here:
What's missing? Quite a lot actually, but to be fair, the beta is still at least three months away and release isn't expected until next year. That's an optimistic view – remember Windows 8 is also the first port of the codebase to ARM processors.
Apple is well ahead in the game of adding touch elements to Mac OS X. What's missing from both giants is ambition, it seems: the ambition to do more than add a few new widgets, and some funky window manager effects to a new OS release. Whatever happened to the idea of the file system as a database? Or new ways of organising and browsing data – such as piles?
Did the derision that greeted Microsoft Bob permanently dissuade system vendors from ever trying to improve organising and finding data? I hope not. But I'll follow up this strange lack of innovation into the next article. ®