Top telly tech fails to drive new set sales
Vendors promoting the wrong features, says study
The technologies telly makers are promoting in a bid to persuade punters to replace existing TVs are failing to excite consumers.
LED backlight technology, internet connectivity and 3D are all being pitched up by vendors in the hope consumers will splash out on new sets.
3D is being pushed in particular, but according to research carried out by market watcher DisplaySearch, it's not what buyers want.
DisplaySearch asked consumers to rate the importance of 17 factors - size, thinness, just having something new, and so on -that might affect their decision to upgrade their existing TV set. In the UK, 3D, LED and internet connectivity all fell way below the average.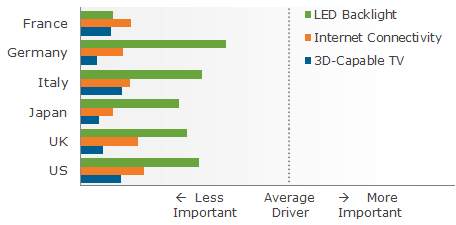 Source: DisplaySearch
LED was the strongest driver, followed by internet access and, a very long way from the average, 3D.
"Even Japanese consumers, long considered to be early adopters, cited 3D as a relatively unimportant factor when deciding to buy a new TV," DisplaySearch's Global TV Replacement study says.
Factors such as lower power consumption, and thinner, lighter sets do appeal to punters, but while LED backlighting is an important factor in delivering these qualities, punters don't see it as such, DisplaySearch said.
The growth in global TV shipments slowed significantly in Q1, DisplaySearch said, falling to just a single percentage point up on Q1 2010.
Shipments fell sequentially too, which you'd expect from a quarter that follows the Christmas period, but the plunge was sharper than is usually the case, because Q4 2010 supply so outstripped demand, the researcher reckons.
During Q1, shipments of LCD and plasma tellies rose by single figures - not enough to cover a 32 per cent decline in CRT shipments.
CRTs, incidentally, still account for 13.2 per cent of world TV shipments, or did in Q1. Plasma only took 6.6 per cent. Apart from a few OLED screens and reverse-projection jobs, all the rest were LCDs.
3D sets accounted for just four per cent of Q1 telly shipments. ®
Sponsored: Detecting cyber attacks as a small to medium business