Super Micro says MicroClouds will rain down in July
Packs them in for micro server preview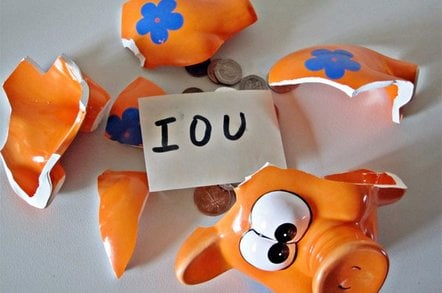 Motherboard and whitebox server maker Super Micro is showing off its first entry into the so-called micro server segment, called the MicroCloud, at the Computex 2011 trade show in Taipei, Taiwan this week. The company had been hinting back in April that the MicroClouds were in the works.
The MicroCloud machines, like a number of micro server designs that are rolling out this year, are based on Intel's new "Sandy Bridge-DT" Xeon E3-1200 processors, which launched in March. The Xeon E3 processors are designed for single-socket machines, and using Intel's "Bromolow" platform have four DDR3 memory slots per processor socket. They also have somewhat limited I/O expansion compared to the uniprocessor and two-socket "Romley" platforms based on the "Sandy Bridge-EN" processors – to be launched in the third quarter as the Xeon E5s if rumor has it right.
There are a number of ways to create a micro server, and one of them is to make a tray server that slides into a chassis, either in a vertical row as most blade servers do, or horizontally, three side-by-side, in a chassis. The thing about micro servers is that they are designed for relatively lightweight workloads, do not require a lot of CPU or memory, and are usually inherently parallel workloads where each node in a cluster is not particularly important to the overall processing being done in the cluster. Because the software stack includes data replication and workload balancing across hundreds or thousands of nodes and usually with relatively cheap top-of-rack switching, all of the system management controller, networking backplane, and integrated switching that is part of a much more expensive blade server is ripped out of the micro server. That means you can cram more server nodes into a box, and for some workloads, having the lower energy consumption and the lowest price per node are the most important thing for customers.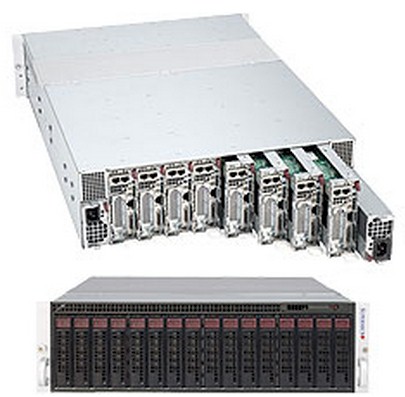 The Super Micro MicroCloud micro server
Intel executives have said that they expect micro servers to eventually comprise about 10 per cent of the server volumes, thanks to their adoption by cloud infrastructure and hosting suppliers, and about two-thirds of those machines would be best suited to a Xeon, rather than an Atom, processor. So it is no surprise, then, that Super Micro's first foray into micro servers is based on the Xeon E3 processors rather than the Atom. That said, Super Micro may plunk one or more Atom processors onto a server tray for the MicroCloud boxes at some point – the company is not saying at this time if that is the plan.
But this secret decoder ring chart that Super Micro partners have been given to understand the naming conventions for the MicroCloud components shows what options the company might be planning for: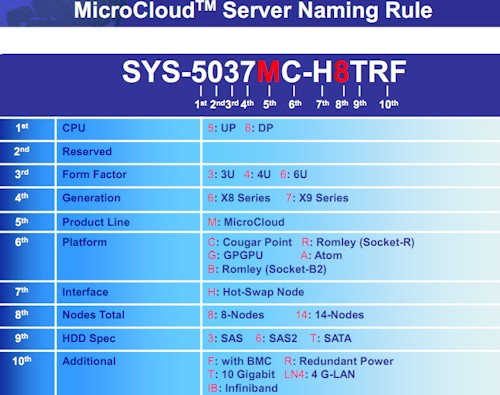 As you can see, Super Micro can contemplate a number of chassis form factors (3U, 4U, and 6U), processor architectures and coprocessors, and peripheral expansion for the MicroClouds.
Sponsored: How to Process, Wrangle, Analyze and Visualize your Data with Three Complementary Tools