WW2 naval dazzle-camo 'could beat Taliban RPGs'
Comical claim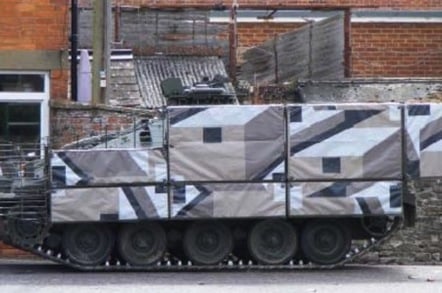 Researchers at Bristol uni say they have performed experiments indicating that if British troops were to use the "dazzle camouflage" favoured for warships in the World Wars on their vehicles in Afghanistan, this would make them harder to hit with RPG anti-armour rockets, a favourite Taliban weapon.
Dr Nick Scott-Samuel, psychologist and lead researcher on the study, wrote:
The effect should obtain... on modern, low-tech battlefields where handheld weapons are fired from short ranges against moving vehicles. We show that in a typical situation involving an RPG7 attack on a Land Rover the reduction in perceived speed would be sufficient to make the grenade miss where it was aimed by about a metre, which could be the difference between survival or otherwise for the occupants of the vehicle.
Can this be true?
Let's look at the details. The study involved showing test subjects different patterns moving across a computer screen, in an attempt to see whether the nature of the pattern affected the subject's perception of it. According to Scott-Samuel and his colleagues, high-contrast zigzag or check patterns moving fast made their subjects underestimate speeds consistently.
However, the threshold at which this was seen involves pretty high speeds. The subjects only began to get their speed estimates wrong when the dazzle-cam patterns were tracking past at 20 degrees/second or more, which in the case of a vehicle 70m away means it must be travelling at 55 mph or more.
The researchers go on to say that this will make it noticeably harder to hit such a vehicle with an RPG* shoulder-fired rocket, a common weapon in use by the Taliban:
Dazzle patterning should offer some protection from such devices. The effect size observed for check and zigzag patterns at this speed is an error of circa 7 per cent. An approximate calculation, based on the best available knowledge of the flight characteristics of a typical weapon, shows that the grenade takes around 0.5 s to reach a target at 70 m [22]; in 0.5 s a 90 km/h [55 mph] vehicle moves 12.5 m, and so a 7 per cent error is about 90 cm. In other words, the missile would hit around 1 m behind where it was aimed, a difference which may be sufficient to prevent loss of life.