Endeavour bids adios to ISS
Undocks ahead of final homecoming
Space shuttle Endeavour undocked from the International Space Station at 03:55 GMT this morning, marking its last departure from the orbiting outpost ahead of its return to terra firma on Wednesday.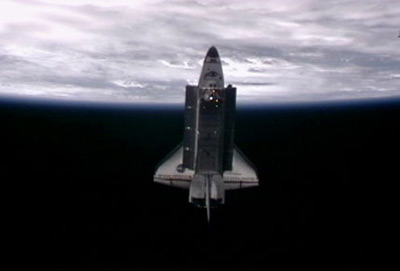 Before waving a final goodbye, the venerable vehicle had a couple of last duties to perform on its swansong STS-134 mission.
After a fly around to allow crew to take detailed photos of the ISS's structure, Endeavour crept to within roughly 950ft of the station to put the Sensor Test for Orion Relative Navigation Risk Mitigation (STORRM) system through its paces.
NASA explains this is "an automated docking system that uses a vision navigation sensor flash lidar and high definition docking camera" which "operates very much like a stop sign reflecting headlights".
The agency elaborates: "On the docking port of the space station are specialized retro-reflectors - which are made from material similar to that used on stop signs - that bounce light back with minimal scattering. The lidar targets the retro-reflectors to calculate the range and line-of-sight angle measurements that the system then provides to the relative navigation software."
The job done, Endeavour then fired its engines to gradually fall behind the ISS.
The STS-134 mission's primary goal was delivery of the Alpha Magnetic Spectrometer, the $2bn piece of kit designed to "advance knowledge of the universe and lead to the understanding of the universe's origin by searching for antimatter, dark matter and measuring cosmic rays".
During 11 days of joint docked operations, Endeavour mission specialists Greg Chamitoff, Andrew Feustel and Michael Fincke carried out four spacewalks, during which they completed several maintenance tasks and stowed Endeavour's 50ft inspection boom on the ISS to act as an extension to the station's robotic arm.
Once it's back on the ground, Endeavour will be prepared for display at the California Science Center in Los Angeles. The last scheduled shuttle launch is Atlantis's STS-135, slated to blast off on 8 July. ®