Endeavour 'nauts wrap last ever shuttle crew spacewalk
End of an era at the ISS
Mission specialists Greg Chamitoff and Mike Fincke earlier today wrapped the fourth and final spacewalk of Endeavour's STS-134 mission to the ISS – the last ever EVA by space shuttle crew members.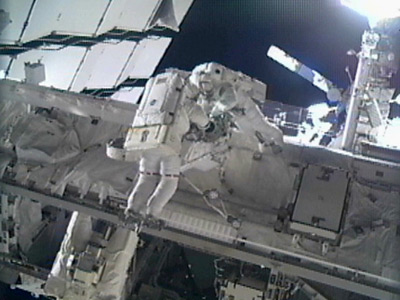 The pair ventured outside the orbiting outpost for seven hours and 24 minutes, during which they stowed Endeavour's 50-ft inspection boom at its new home outside the station.
Once they'd added a "power and data grapple fixture" to the boom, it officially became the "Enhanced International Space Station Boom Assembly, available to extend the reach of the space station's robotic arm".
Just shy of five hours into the EVA, Chamitoff and Fincke "surpassed the 1,000th hour astronauts and cosmonauts have spent spacewalking in support of space station assembly and maintenance".
NASA station flight director Derek Hassman said recently: "In the early shuttle program, a flight with one or two EVAs was considered a pretty challenging mission. With the station missions that we fly today, with three and four EVAs the norm, the difference and the upgrade in the capability is just tremendous."
Chamitoff has clocked up two spacewalks, for a total of 13 hours, 43 minutes. Finke is now a nine-EVA veteran, having spent 48 hours and 37 minutes outside the airlock, putting him "sixth on the all-time list".
NASA adds: "This evening, [Finke] will become the US astronaut who has spent the most number of days in space, surpassing Peggy Whitson's record of 377 days."
Space shuttle Atlantis is pencilled to blast off to the ISS on 8 July, carrying the Raffaello multipurpose logistics module. On board for STS-135 will be commander Chris Ferguson, pilot Doug Hurley, and mission specialists Sandy Magnus and Rex Walheim, but none of them will be doing any spacewalking.
Once the shuttle programme wraps, Atlantis will go on display at the Kennedy Space Center Visitor Complex. Discovery is bound for the Udvar-Hazy Center at the Smithsonian Institution's National Air and Space Museum, while Endeavour will come to rest at the California Science Center in Los Angeles.
Endeavour commander Mark Kelly previously expressed his sadness at seeing the shuttles farmed out to museums, but described it as "a necessary step so we can go on and do some more exciting things". ®