Telcos team to test '4G' in Cornwall
Large Throughput Expected?
BT and Orange/T-Mobile owner Everything Everywhere will be trialling LTE mobile connectivity later this year, in Newquay.
The area, favoured by surfers, will presumably soon get the thumbs-up from web surfers too. Ahem.
Both partners are calling the trial a test of 4G technology, though there's no discussion as whether the speeds delivered meet those defined by the ITU as indicative of 4G.
The test will use two 10MHz bands within the 800MHz spectrum, and will be used to link remote sites to BT's fixed-line network as much as provide high speeds to mobile punters.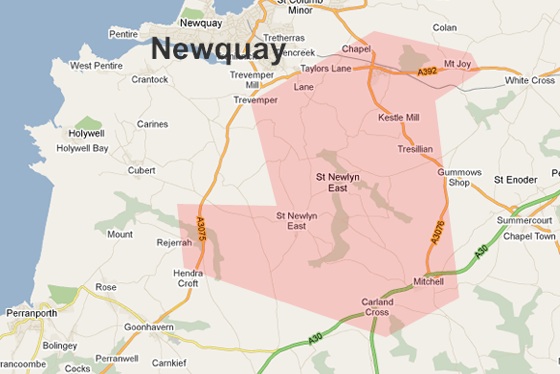 The Newquay trial zone
According to the ITU, if these folk get 4G, it means the latter will experience speeds of 100Mb/s for those on the move and up to 1Gb/s for people in homes and offices. LTE, in its current form, maxes out at 100Mb/s for users who are stationary.
In any case, the companies can't yet make the technology available commercially. Telecoms regulator Ofcom has yet to auction off the spectrum, and that's not expected to happen until 2012.
Interested members of the public can express their desire to take part in the tests at the 4G Superfast Broadband Trial website. ®
Special Report WTF is... 4G?