Isilon and a question of Big Data
Or was that ingestion?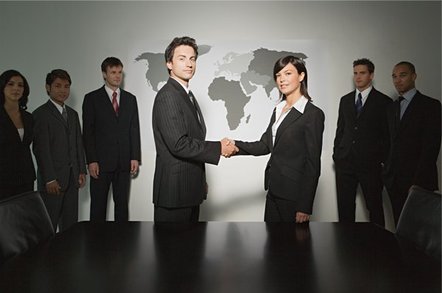 Interview Xiotech technology VP Rob Peglar has moved to Isilon, now an EMC business, to become chief technology officer (CTO) for the Americas.
We interviewed Rob and asked him questions that reveal quite a lot about Isilon's prospects, big data, the role of flash in scale-out filers, reduplication and Isilon, and what we should think about archiving data from Isilon clusters.
El REg Why did you join Isilon?
Rob Peglar: Primarily, for a personal reason - to take the CTO Americas role.  Secondarily, significant parts of the industry are moving towards greater use of file-based storage and the resultant use (gathering, analysis, reduction) of data stored in files. Isilon is an innovator and leader in that space and I joined to help end users realize new capabilities in their use of file data as well as be a key participant in the next generation(s) of file-based storage architectures.
El Reg What does the CTO Americas do that's different from the overall CTO?
Rob Peglar: CTO Americas role is an allied position to the corporate CTO (Paul Rutherford).  Isilon has a thrice-distributed CTO function in world geographies; Americas (basically, the Western Hemisphere), EAME and Asia-Pacific (AP). These roles have an outward (i.e. towards end users and channels) function as well as an inward (i.e. towards products, roadmap, strategy, engineering, etc.) function. In my role, I will be facing customers and channels to give them a thorough understand of not only what Isilon does, how and why we do it, and so on, but also higher-level industry trends, techniques, technologies, and executive-level briefings on the strategic implications of file data to businesses and organizations.
El Reg Is big data in general different from big data in the HPC world and, if so, how?
Rob Peglar: In general, it is. While there are some similarities – both being unstructured data, for example – there are typically differences between big data in the commercial/business world and big data in the traditional HPC/supercomputing world. I am fortunate to have experience in both worlds, dating back to 1978 on the traditional HPC side. HPC typically involves the analysis of very large but 'fixed' sets of data, i.e. a dataset describing an initial condition. That data is then ingested and subjected to an iterative process, typically a very large job which simulates and analyzes the forward-in-time progress of the computation, performing a certain computational model based on the initial condition.
During the job, large intermediate files are produced to save the job's state and its data at a given time step. This process is often referred to as 'checkpointing'.  Checkpoints are taken because HPC jobs may run for weeks at a time; restarting a job from its initial condition is to be avoided, for all the obvious reasons. The end result of the HPC job may actually be very little data; just a set of results or a visualisation, computed over a given time interval. Or, the net result may be another very large dataset which would then in turn undergo yet another set of analysis, perhaps by a different job.
Contrast this with commercial/business 'big data' as being generated and stored by what I call 'constantly running' applications, e.g. web hits, cookie-based widgets, error logs, transaction logs, streaming apps, and the like. This kind of data, while unstructured like its HPC cousins, is constantly changing and being appended to by the outside world.
Data analysis jobs in this world typically take a 'chunk' of this big data and attempt to reduce it for specific analysis, pattern matching, searching, and/or general data mining, seeking to understand the data itself for a business purpose. The key to this kind of big data is that it's constantly evolving, whereas data in the HPC world typically doesn't. Both types of big data, however, require large, reliable and – the seminal characteristic by far – scalable storage.