Endeavour 'nauts in epic ISS spacewalk
Robotic arm lube job proves problematic
Space shuttle Endeavour mission specialists Drew Feustel and Mike Fincke earlier today ventured outside the International Space Station for an epic eight hours and seven minutes - the sixth-longest spacewalk in history.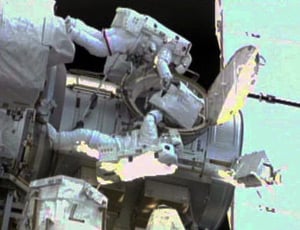 The two NASA 'nauts were first tasked with topping up the ammonia in the orbiting outpost's cooling system. Before the EVA, Finke (bottom, in pic), said: "This is high-grade industrial ammonia so we have to be super careful not to get it on us or to spill it because it's quite dangerous if we brought it back inside."
In the end, the pair tackled the ammonia menace without incident, but had rather more bother with a lube job on joints of the Dextre robotic arm. Fincke lost one of four bolts securing a cover, and it "floated out into space", as Reuters puts it.
He lamented: "I was really careful with these bolts and it didn't help me out. Even ammonia is more fun than taking these guys off."
As a result, the two mission specialists were able only to lubricate four joints of the six which needed some TLC.
The excursion marked Feustel's fifth spacewalk. He previously tinkered with the Hubble Space Telescope on three EVAs prior to his first STS-134 spacewalk on Friday. Veteran Fincke was on his seventh trip outside the airlock. ®