Creative Sound Blaster Tactic 3D Sigma gaming headset
Spatial delivery
Mission creep
I certainly experienced quite a realistic sense of space and this is definitely a feature I don't get from my Razers, but the Sigmas do suffer from noise spill, as my housemate could hear my untimely death by zombie.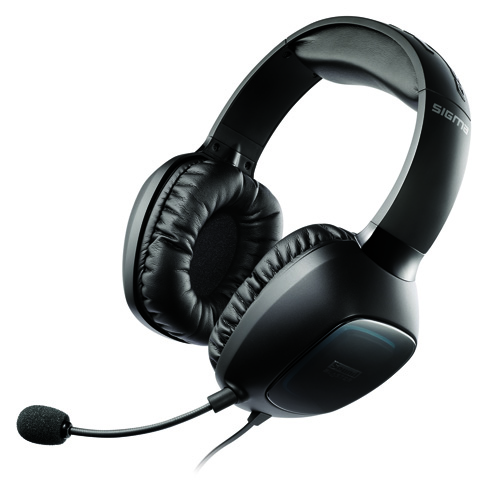 Dull design, but not a bad sound for the price
What would a gaming headset review be without some Call of Duty: Black Ops action? To be fair, this is when I handed the controls to the boys of the house and they were quite impressed. They noticed that the Sigma's surround sound lets you hear people creeping towards you from any direction, so you don't have to worry about being gimped – other players sneaking up behind you and then knifing you in the back – because you can tell where they're coming from.
The game where these headphones performed at their best was, you guessed it, World of Warcraft. The Dialogue Plus setting in the control panel really amplified in-game speech, lending voices perspective and range. There is also a lot to be said for the mic quality – recently improved in sensitivity with a firmware update – which was exceptionally clear over Skype, even to my sister (Tauren Druid) in Vancouver.
DVD audio was good and loud, watching Enter the Void, which is all shot from a first person floating perspective, (sex from above anyone?) was an immersive experience, but not as impressive as the in-game sound. After testing with both music and DVD audio there's no doubt that Sigmas are most satisfying to use as a gaming headset, which is just as well, really.
Verdict
While surround tricks can give you a tactical advantage, I just didn't like the Creative Sound Blaster Tactic 3D Sigma headphones as much as my – yes, much more expensive – Razer Banshees. I want the bass to make my teeth vibrate when a boomer explodes near me and, even after ramping up my pink bass blobs to maximum in the control panel, despite being loud, the Creatives just don't cut it the same way. Bottom end preferences aside, these are decent sounding gamer-spec cans featuring fairly convincing surround sound for the price, but you wouldn't catch me undead in them. ®
More Headphone Reviews

Ten... over-ear
headphones
Marshall
Major
Razer
StarCraft II
peripherals set
Creative
World of
Warcraft
Ten... Wireless
Headphones
Creative Sound Blaster Tactic 3D Sigma gaming headset
Surround sound gaming headset with USB connectivity.