Netgear XAV5001 500Mb/s powerline Ethernet adaptor
The mains event?
Noises off
Of course, it's all relative. Netgear's website cheekily talks about a "Gigabit-fast wired connections". Just because the adaptor has a Gigabit port doesn't mean it's "Gigabit-fast". If it was, it would deliver a rate of at least 389Mb/s, which is what I measured for the transfer when I casually hooked up the laptop direct to the router.
So yes, the ideal solution is to plumb in Cat 5 cable throughout your home. Though, before a reader suggests exactly that, don't forget such a move isn't always practical or even feasible for many folk - people who rent their properties, for instance.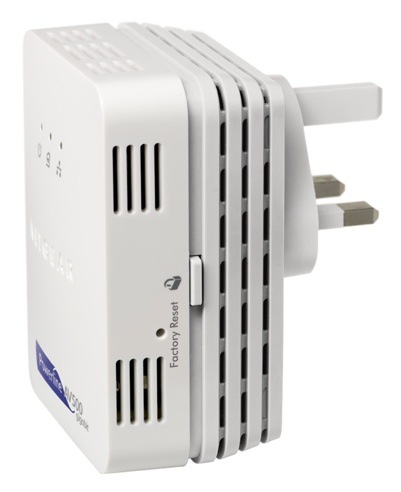 Gigabit? Not half
Some other curmudgeon will grumble about the radio noise some, badly behaved powerline adaptors emit. For what it's worth, I didn't pick up any audible interference on on an FM radio tuned to the lowest possible station. That said, if you only get a weak signal where you live, your signal may not be sufficient to mask the powerline noise, as BBC engineers recently found.
The Beeb's engineers didn't say which adaptors they used, but the photos show what appears to be the Belkin Gigle-based adaptor, which has been claimed by some to be more noisy than the rest thanks to its use of higher frequencies to up the bit rate.
Verdict
At £60 a pop and around £100 for two, Netgear's XAV5001 delivers a speed boost over 200Mb/s powerline adaptors, which aren't a great deal cheaper. New to powerline? Then 500Mb/s is the way to go, but if you already use it, there's no compelling reason to upgrade unless you're finding existing bandwidth insufficient. ®
More Powerline Ethernet Adaptor Reviews

WD
Livewire
D-Link
DHP-306AV
Devolo
dLan
AVplus
Belkin
Powerline HD
Gigabit
Solwise
Piggy 6
Sponsored: Detecting cyber attacks as a small to medium business

Netgear XAV5001 500Mb/s powerline Ethernet adaptor
500Mb/s-branded powerline adaptors that bring nearly double the performance of 200Mb/s network kit.
Price:
£60 (XAV5001) £100 (XAVB5001 - pack of two XAV5001) RRP