Netgear XAV5001 500Mb/s powerline Ethernet adaptor
The mains event?
Gigabit performance? Not quite
Each XAV5001 is about the same size as any 200Mb/s HomePlug adaptor without a pass-through power port. There's the customary Ethernet port on the bottom edge - this time it's a Gigabit Ethernet socket - and the now-standard network encryption button on the right side.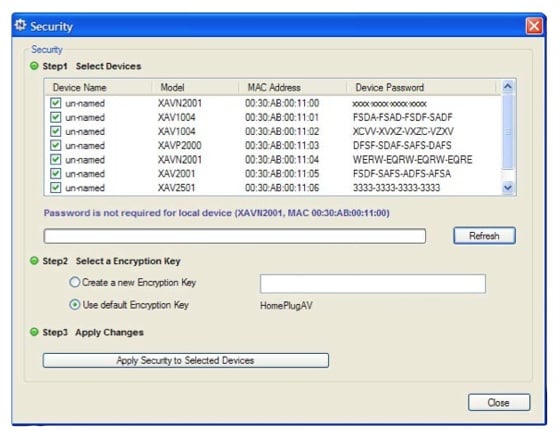 Set your own password
This gives you two minutes to press the equivalent button on all your other adaptors, at which point they'll jointly negotiate and share a 128-bit AES encryption key, handy to protect data in properties that share their electrics with others in the building.
If you've used any other powerline adaptor, you can use these ones.
I plugged one into the wall linked to one of my router's Gigabit ports. The other adaptor, I cabled to a laptop's Gigabit port. Transferring a 2.15GB file from a Nas drive took, averaged over three, very similar runs, 215.9 seconds - a mean speed of 9.96MB/s or 79.67Mb/s.
That's rather better than the 48.39Mb/s I've measured in the past with 200Mb/s adaptors, but less than the 102.11Mb/s I got from the Belkin units.
Data Transfer Speed Results

Average file copy speed in Mb/s
Longer bars are better
Belkin's Gigabit adaptor was more susceptible to noise than 200Mb/s adaptors, and that's true of the Netgear 500Mb/s adaptors too. One run produced an average data transfer speed of just 49.03Mb/s - back to 200Mb/s level, effectively.
Sponsored: Detecting cyber attacks as a small to medium business