Dell carves profit from slim revenue growth
HP it's not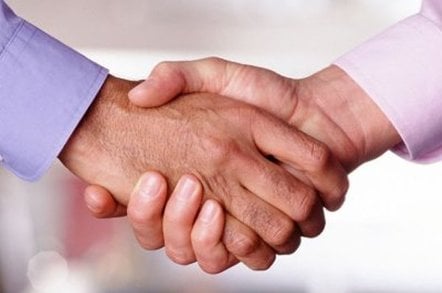 Dell didn't dive as much as HP. Dell had lower sales than expected during the its first quarter of fiscal 2011, but it boasted a big profit boost, raising its expectations for revenues and earnings for the full year. HP, by contrast, is tightening its belt, while shaving $1bn to $1.5bn off of its revenue projections for the year.
Both companies have done what mature companies do, which is balance revenue growth against the profits that you can get out of a hyper-competitive IT environment. IT vendors have learned to walk away from deals in recent years. "We continue to believe that earnings share is more important than market share," explained Brian Gladden, Dell's CFO, on a conference call with Wall Street analysts. And the Dell numbers show that.
In the first quarter, Dell's hardware product revenues were down a fraction of a per cent, to just over $12bn, while services and software revenues were up 6.1 per cent, to just under $3bn. Overall revenues were only up a point, to just over $15bn. Gross margins rose by 36 per cent, to $3.43bn, thanks to substantially lower manufacturing and sales costs for its products. Net income was up a very impressive 177 per cent, to $945m, which worked out to 50 cents per share, nearly triple the EPS from the year-ago quarter.
A day after HP admitted to problems in its most recent quarter, Gladden said much the same of Dell. "As we moved through the quarter, consumer demand was weaker than expected," he said. But SMB spending levels were the highest that Dell has seen in two years, and the company is expected a sales bump in its public sector unit as state and local governments move into their new budget cycles in the second half this calendar year.
In fact, Paul Bell, president of Dell's Public and Large Enterprise business unit, said that while budget cuts among governments had curtailed the PC refresh cycle, the same budget cuts had boosted spending on server and storage consolidation projects where IT departments are being charged to cut costs.
Gladden said that Dell's PC business was "radically improved" compared to three years ago, when Dell began to sell its products through retail channels and it started shifting to contract manufacturing. Dell's desktop PCs accounted for $3.3bn in sales, down 8 per cent, but mobile PCs hit $4.72bn in the first quarter, up 3 percent.
Dell's server and networking business had an 11 per cent sales jump, to $1.97bn, and Gladden said that blade server revenues rose 23 per cent and networking gear sales were up 32 per cent. Dell's storage revenues fell 13 per cent, to $481m, but that is because it is not really peddling EMC arrays any more (revenues were off 43 per cent) while ramping up its own PowerVault, EqualLogic, Compellent, and DX Object Storage arrays. These Dell-branded products had an 11 per cent increase in revenue in the quarter, but do not quite make up for the lost EMC disk array sales.
Dell's services unit, anchored by the former Perot Systems, grew by 5 per cent to just under $2bn. Outsourcing accounted for $703m during the quarter (up 3 percent), while services projects helping customers wrestle with their infrastructure and applications were $187bn (up 13 per cent). The transactional services revenue – meaning support contracts for Dell and third party products – represented $1.1bn (up 5 per cent). Dell exited the quarter with a $14.1bn services backlog, pretty evenly split between support and outsourcing deals.
Software and peripherals posted a 3 per cent bump, to $2.57bn.
By customer category, Dell's public sector customers spent $43.77bn (down 2 per cent), while large enterprises spent $4.48bn (up 5 per cent). The small and medium business segment grew by 7 per cent, to $3.77bn, while Dell's consumer business shrank by 7 per cent to just a tad over $3bn.
Looking ahead to its second quarter, Gladden said that Dell expected sequential revenue growth "in the mid-single digits", which he said was slightly above the normal seasonality from Q1 that comes in at a 2 to 3 per cent bump. For the full fiscal 2012 year, Dell raised its revenue guidance to between 5 and 9 per cent growth and raised its non-GAAP operating income to between 12 and 18 per cent. ®