Apple seeks patent for keyboard that sucks
Or blows. Or both
Apple has applied for a patent that describes a novel method for improving the tactile feedback of ultra-thin keyboards: each key emits a puff of air when either approached or touched, and can be pneumatically sucked downward in response to touch.
When we discovered patent application number 20110107958, "Input devices and methods of operation", we checked to see if it had been filed on April 1. Nope: it was filed on November 12, 2009, and published this Thursday.
We also checked out the bona fides of the lead inventor, Aleksandar Pance. He appears legit, having filed 18 patents for Apple since late 2008, mostly focused on input devices.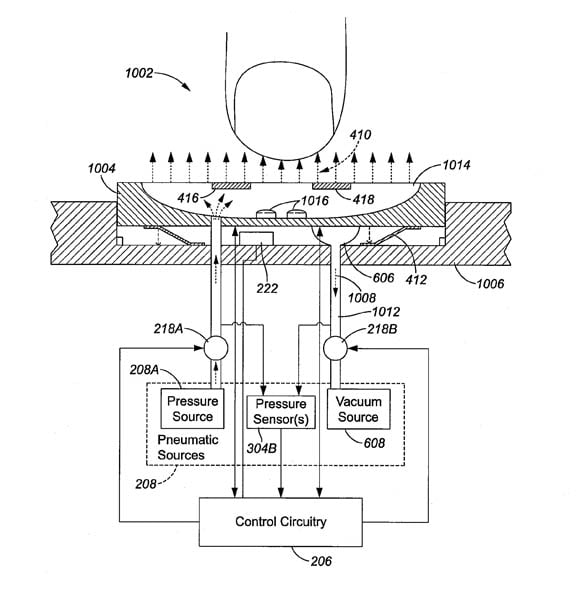 As your finger approaches, a puff of air is released to add to tactile feedback and a vacuum pulls the key downward
But the filing itself? Well, that's another matter. It does address a legitimate concern – the fact that thin keyboards with limited key travel can provide less-than-satisfactory user experience – but a keyboard that blows and sucks? Color us unconvinced.
Still, the embodiments – "examples", in patentese – described in patent application 20110107958 are ingenious. In one, proximity sensors detect an approaching fingertip, and emit a puff of air "through openings in a key surface, or through openings adjacent the key assembly."
Another embodiment senses an approaching finger and applies air pressure to the space below the key, causing it to more strongly resist the finger's advance.
Still another embodiment sucks the key downward when it is depressed, causing it to be "thus pneumatically pulled away from the user," with the desired effect being to "provide the user with the impression of a longer keystroke than is actually present."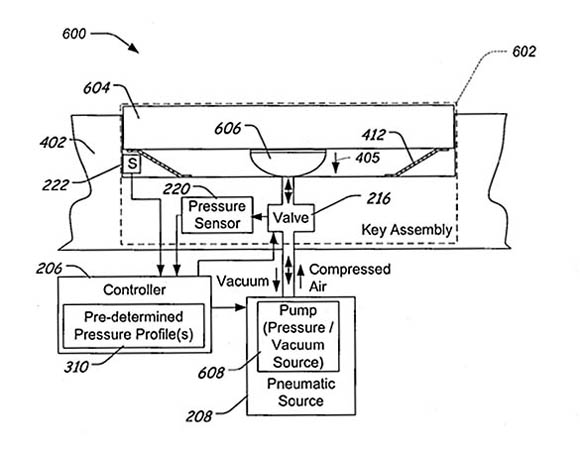 In this embodiment, the keyboard merely sucks – the key down into its housing, that is
The application also describes a number of different embodiments that combine blowing and sucking in various combinations, ways to regulate the amount of air pressure used to enhance key resistance, and proximity and contact sensors using capacitance or optical sensing.
Nowhere in the filing, however, is a discussion of how all this keystroke-enhancing technology can be fit into a keyboard without making it bulkier than it would be otherwise, even though the solutions it proposes are specifically targeted at enhancing tactile feedback in low-profile devices. ®
Sponsored: How to get more from MicroStrategy by optimising your data stack