Newly spunky Tandberg grapples RDX
Removable disk rescue road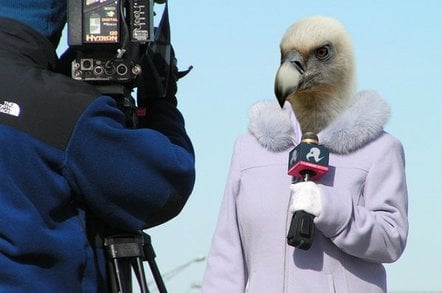 Two years ago Tandberg Data was an ailing company, but yesterday it agreed to buy the RDX removable disk assets from ProStor, signalling its return to health.
RDX is the removable disk drive cartridge technology devised by ProStor Systems with manufacturing and marketing rights licensed first to Tandberg Data and then to Imation.
Tandberg Data is a tape automation supplier that fell on hard times as the backup-to-tape market consolidated onto the DAT and LTO formats and then shrank under the onslaught of backup to disk and deduplication technologies.
Tandberg Data recovery
As Data Domain's fortunes soared as those of Exabyte, Overland Storage, Tandberg Data and other tape backup device manufacturers slumped. Exabyte has gone. Overland Storage is still struggling, but Tandberg is back to health and growing.
Marije Stijnen, Tandberg's marketing VP, said: "Last year we acquired our manufacturing facility in China. We also got a large repair facility there."
Tandberg's recovery direction has been disk-based, with RDX being a neat combination of disk speed and tape's removability. ProStor Systems has steadily increased the capacity of the RDX cartridges and their 2.5-inch drives, with 1.5TB due. That capacity was promised for the end of 2010 but hasn't arrived yet.
Privately-owned and venture capital-backed ProStor has also developed its InfiniVault, described by ProStor as "a virtualized storage environment that combines fixed RAID disk and RDX to provide complete data protection, continuous data access, security, and retention management throughout the data's extended lifespan." The device is seen by accessing client systems as a NAS (network-attached storage) share.
It has sold slowly but ProStor is convinced that it has great prospects. However, developing those prospects requires cash and, reading between the lines, ProStor may not have enough cash to develop both the RDX and InfiniVault product technologies.
Last month a solid state RDX cartridge was introduced, signalling RDX applicability to high-speed and secured file storage for markets like the broadcast industry where instant backup of media files is needed. Creative professionals working on video projects for example, like the idea of backing up files virtually instantly to an offline device which they can carry with them, creating an instant archive.
Neither Tandberg nor ProStor are saying what Tandberg paid for the RDX assets. These assets include the RDX IP, key development engineers in Boulder, Colorado, who are moving to a Westminster site eight miles distant, and the Imation manufacturing license.
Tandberg now gets full control over the RDX technology and can develop RDX cartridges and docks as it wishes.
Stijnen said: "We'll work very closely with Imation and look at new areas where we might introduce RDX, using system integrators, such as health care, home video and broadcasting, with a focus on servers and workstations … We want to grow the market with Imation."
ProStor perspective
ProStor put out a statement about its sale of the RDX business to Tandberg, which included a quote from CEO Frank Harbist: "In recent months, we've enhanced and expanded the ProStor InfiniVault product line significantly. The sale of the RDX business will enable us to align our resources and focus our attention solely on scaling the InfiniVault product portfolio."
The background to this came out in a telephone call with Frank Harbist, in which he said: "ProStor made a strategic decision before my time to move to a royalty business model. RDX is now a $100 million run rate market [but] ProStor only gets three per cent of that."
No wonder Tandberg has been able to recover its business health.
ProStor created the InfiniVault business as a way of getting more value from its intellectual property and moving to a systems and software company, away from being a pure device business. Harbist said: "My challenge for the last couple of years was how do we effect that transition. The InfiniVault business has been more than doubling year on year. In the fourth quarter of 2010 InfiniVault revenues surpassed those from RDX.
"The timing was right to do this [Tandberg deal] ...Tandberg will be able to invest more in RDX's development than we were able to do ... [InfiniVault] has prospects of dramatic success and an exit for our investors. "
Harbist also said that the nature of the RDX and InfiniVault businesses were different; "Start-ups have to focus."
So how much did Tandberg pay? We think it's $100m and up - but this is sheer guesswork.
The deal looks like a triumph for Tandberg Data CEO Pat Clarke, who became CEO when company failure was a distinct possibility, and who now has a technology that can take advantage of small and medium business's increasing adoption of backup to disk and move away from tape. All major system OEMs take the technology, including HP, the leading seller of DAT tape backup products to SMBs.
Tandberg looks to have a great base on which to build more RDX business, and ProStor has the seed capital needed to develop and build its InfiniVault business without its backing VCs having to put more cash into the company. A sweet deal all round. ®