Haumea: Mysterious radioactive rugby-ball world
Boffins probe secrets of bizarro Kuiper belt denizen
The fifth "dwarf planet" of the solar system, Haumea, is shaped like a rugby ball 2,000km long and its icy surface is warmed by radioactive uranium and thorium ores in its interior.
The strange ellipsoid world is thought to have a day just four hours long, and is attended by a brace of moons as it circles the Sun far out in the distant Kuiper belt beyond the planet Neptune.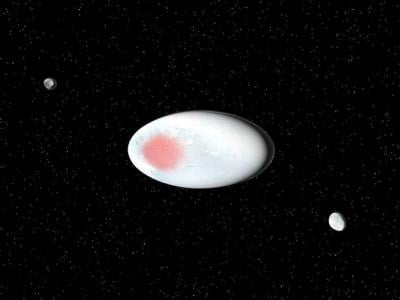 Red-spotted radioactive rugby-ball: remarkable.
These new revelations on Haumea, which was only discovered in 2005, come to us courtesy of a team of international astronomers who have been probing the strange object using the aptly-big Very Large Telescope operated by the European Southern Observatory in Chile.
According to the latest observations, the surface of Haumea and its moon Hi'aka are covered with crystalline water ice. Normally, considering the outrageously chilly temperatures which prevail out beyond Neptune, the ice would have become glass, without a crystalline structure: there must be some form of heating present.
According to ESA researcher Benoit Carry, who worked on the study, this heat probably comes from radioactive uranium-238, thorium-232 and potassium-40 present in the rocky cores of the planet and moon. More is generated by the tidal forces between Haumea and its two satellites.
The boffins have also been puzzled to note a reddish spot on the strange world's surface.
"My interpretation of the infrared photometry is that this area could be a richer source of crystalline water-ice than the rest of the surface," says Pedro Lacerda, another astronomer who worked on the results. However the red spot might also be a deposit of strange irradiated minerals, organic compounds etc.
Haumea, like other dwarf planets, follows an orbit tilted at an angle to the plane of the ecliptic in which all the proper planets' orbits lie. The orbits of its moons are also bizarrely out of whack.
There was a row back in 2005 over who had actually discovered it: the solution agreed by the International Astonomical Union, in charge of such matters, was to credit a Spanish team with the discovery but to assign the names submitted by the rival American team: hence the use of Hawaiian mythology.
The other dwarf planets known are Ceres (in the asteroid belt), Eris, Makemake and nowadays Pluto, formerly rated a proper planet.
You can read all about the Haumea discoveries in this paper published by the journal Astronomy and Astrophysics, or (in Spanish) in this statement from the Spanish government's Fundación Española para la Ciencia y la Tecnología. ®