Ten... fantasy gadgets you wish you owned
Look to the future
Fictional Product Round-up Tomorrow is always round the corner in the world of tech, and gadgets that started life in the imaginations of mad folk are starting to become a possibility.
Tools that give us superpowers may seem impossible, but ultramobile computing is a reality these days, with commonplace kit that seems more capable than devices Gene Roddenberry dreamt up.
As we've already looked at fantasy blades you wished you owned, it's about time we talked-up the fantasy tech, after all, we are Reg Hardware. So here's ten of our favourite gadgets from popular culture that may or may not be the tech of the future.
Let us know if there's anything you think we've missed and give us your views on its commercial prospects in the comments section at the end.
Cloaking device - Predator

The idea of invisibility has probably been around since caveman first dreamt of an easy sabre-tooth snack. Greek mythology even had Hades down as the owner of an invisibility helmet. Cloaks soon became the invisibility tool of choice for authors from JRR Tolkien to JK Rowling, but as tech has improved, fictional invisibility devices have sprung up in every corner.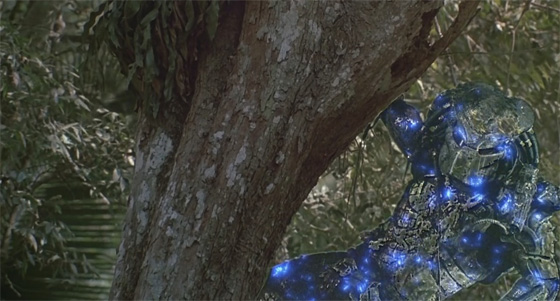 In Predator there was a one such device that camouflaged the snatch-mouthed alien almost completely from sight. It could still be seen with careful observation though - an significant shortcoming for its commercial exploitation, assuming you live long enough to exploit it. In The Vanishing Americans, Jayzey Lynch's Nard n Pat provides a suitable example of why imperfection is a must. Invisibility is the ideal superpower for a world of perverts and unless there was a chink in the armour, changing rooms would never be the same again.
Invisibility is not necessarily as sci-fi as you may believe. We all know about camouflage technologies that cloak fighter jets from radar detection, but full invisibility is another matter entirely. While techniques involving a crystal called calcite can make small objects such as paper clips appear invisible, to replicate the effect on a human would need a cloak far too large for practical use.
This is all about to change, though. Boffins have recently crafted a cloaking material, which only needs to be a few times larger than the object it intends to hide. While this material is hardly the cloak we would all want to own, it has the potential to hide big defensive targets and military applications. Shame it can't be used for something helpful though, like, hiding your parked car from a hungry to hot-wire hoodlum perhaps.
Still, the idea that we can don a cape and become invisible may not be as fictional as we once believed. And while I can't see it happening too soon, for now, the future itself is cloaked.
Commercial possibility 80%
More info Predators
Holodeck - Star Trek: The Next Generation

Star Trek has such a collection of future tech it was hard to pick a favourite. However, the concept of the Holodeck - 3D TV? Pshaw - deserves a mighty tip of the hat.
The Holodeck takes the principle of virtual reality and turns it into educational tech, simulating environments and situations in order to train the mind to deal with them. Star Trek wasn't the first to implement such a concept, but still popularised the age-old idea we'd all like to try.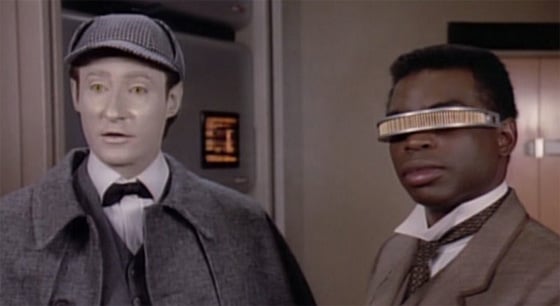 With injuries a possibility, or the chance of being trapped in VR, it is probably advisable to keep Enterprise's security protocols enabled. With health and safety such a precaution these days – coupled with the fact Holodeck use is highly addictive – the chances of a similar VR experiences today may seem unlikely, but are not as far off as we might think.
Willem-Paul Brinkman, a researcher from Delft University in the Netherlands, has developed VRET - Virtual Reality Exposure Therapy – systems which help people deal with phobias through means of virtual reality. Brinkman has even created a virtual pub environment to help people overcome their fear of interaction.
It may all look a bit Second Life at the moment, but as tech improves, science evolves and the line between virtual graphics and video gets thinner, we can surely expect VR to play a major role, not only in gaming and escapism apps, but in the world of education and training too.
Commercial possibility 95%
More info Star Trek
Sponsored: Webcast: Why you need managed detection and response