Las Vegas EMC Confidential
Off the record, on the QT and very hush-hush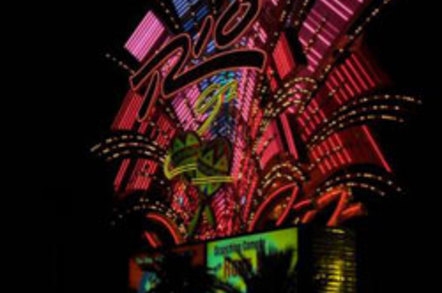 Comment Midnight in Las Vegas and the slots are humming all along the Strip. The girls' dresses are hitched higher than their voices, and through these mean casinos a grifter must go, on the hunt for all the EMC skinny that he knows is out there, before EMC World begins.
Dear readers, we heard things we were not meant to hear, asked questions we were not meant to ask, and got answers, off the record, on the QT and very hush-hush. What do we know?
A certain Israeli storage inventor with an opinion of himself higher than the Vegas Stratosphere Tower decided one time to build a Symmetrix using Itanium chips. It ran hotter than a Vegas craps' players dice and burned up cooling fans.
VMware was acquired in order to get more of a customer's IT spend and take it away from the server vendors. Customers would buy VMware, need fewer servers because VMware had consolidated them, and EMC got itself a cash cow, our source said. The server vendors sneered at EMC, saying it wasn't a server vendor. No said EMC, we're not: we're a virtual server vendor. Eat your heart out.
A mutant ninja turtle wanted to run the whole EMC show but the Godfather was having none of it. According to the storage gossips, Joe Tucci said no to Donatelli and there was a big row. Donatelli then went to HP and the non-compete clause in Joe T's contract was enforced to stop him working on HP storage for a year. Donatelli's old office on Hopkinton executive row was then obliterated when neighbouring office wall partitions were moved to make the remaining execs' offices bigger.
David Donatelli wanted to be HP's CEO when Mark Hurd left, leaving a crushed, bruised and demoralised HP workforce with R & D slimmed down beyond anorexia. HP chairman Ray Lane, as rumour would have it, would be running the show now if he was 10 years younger. Instead, knowing that software is the key to HP's future, Lane set aside Donatelli's ambition and brought in Leo Apotheker. Now Ray tells Leo what to do and off he goes and does it. Allegedly...
Fidelma Russo is running EMC's VPLEX development.
Symmetrix VMAX is going gangbusters and raking in the revenue. It has a quiet role at EMC World but there are hints, dear reader, of dark and promising secrets revealed to NDA-signing serious customers – secrets involving VMware.
NetApp has a 4-way controller scale-out FAS storage array coming; one bigger than the current top-of-the-line FAS 6000. It is actually a pair of ganged-together dual controller FAS 6000s with a failover arrangement between the pair members. There is a software layer running above the pair, in a virtual server or something like that, which arbitrates access to the four controllers beneath. No way does EMC think this is competition to VMAX which, when all is said and done, is effectively a mainframe.
In one to two years, Joe Tucci will become EMC chairman and born-again Pat Gelsinger will be CEO, having being groomed by the Godfather. Paul Maritz will stay running VMware and the two will have a partnership like they used to have when Pat was at Intel and Paul at Microsoft – Wintel.
Data Domain has a globally-deduplicating product version, and the product is running in a certain channel member's data centres. It is waiting for battle-hardening in customer sites before release. The thing could be released in the second half of the year.
It's 4am in the morning, and the slots are falling quiet. The last dice are being rolled on the craps tables and the roulette wheels are spinning to a stop. Tired punters make their way to the elevators and their rooms above, seeking oblivion. But your hustling correspondent never sleeps, peering through the cracks in EMC's walls, bringing you the skinny, off the record, on the QT, and very hush-hush. ®