Dell fashions (more of) its own network switches
With a little help from Brocade and Aruba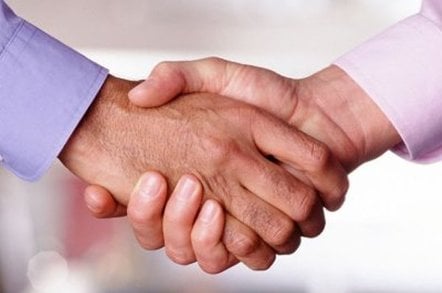 With Cisco Systems having alienated its server partners by coming onto their own turf, the server makers have very little choice but to retaliate and build up their own networking businesses. And consider that it is they, and not Cisco, that control the data center accounts, it is with a certain amount of glee that Hewlett-Packard, IBM, and Dell have ramped up their own networking product lines. Those high margins in the networking racket don't hurt any, either.
In conjunction with a new Opteron-blade server and a DX object storage clustered arrays announced today, Dell is kicking out a few new switches as well, which it is showing off at the Interop networking trade show in Las Vegas this week. These include new PowerConnect switches for its M1000e blade server chassis, a series of rebadged top-of-rack and modular switches that are tweaked versions of products from Cisco rival Brocade Communications, and wireless controllers and access points for the access layer in the corporate network with the help of Aruba Networks.
The PowerConnect M8024-k Ethernet switch tucks up inside of the M1000e blade chassis and offers external Layer 2/3 switching for the blades that slide into the chassis. The M8024-k has 24 ports in total, and if customers want it can be configured to run all of them at 10 Gigabit Ethernet speeds. But it has a bunch of different options to meet various use cases. There are 16 10GE ports on that are internal to the chassis, linking back to the blades, which is one for each blade server if you are using half-height, single-width blade servers in the box.
These ports can auto-negotiate down to Gigabit Ethernet speeds if the network daughter cards (NDCs) or mezzanine cards used in the blade servers are running at the slower speed. The switch also has an additional four ports running at 10GE speeds that sport SFP+ connectors, and then another FlexIO module that plugs into the switch to offer one of the following: four more SFP+ ports running at 1/10GE speeds, a three-port CX-4 copper module (10GE only), or a two-port module using 10GbaseT copper connectors (this one can do Gigabit or 10GE speeds).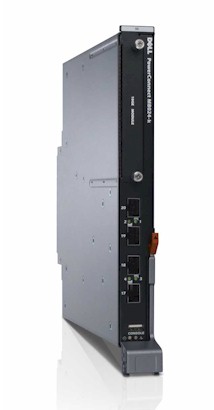 Dell's M8024-k 10GE blade chassis switch
The M8024-k Ethernet switch supports the Broadcom 57712-k network daughter card and the Brocade BR1741M-k and Intel X520-x/k 10GE mezzanine cards; it will also support future 10GE adapters that Dell is cooking up. The existing Gigabit mezzanine cards can also talk out to the M8024-k
The M8024-k switch has an aggregate switching bandwidth of 480 Gb/sec, which is twice the bandwidth as the PowerConnect M8024 switch that it replaces in the Dell lineup. It has 512MB of SDRAM memory for its ASIC and 32MB of flash memory for buffering. It supports up to 16,000 MAC addresses and up to 1,024 VLANs.
The M8024-k is available now; prices start at $11,259.
Dell is launched a whole bunch of rebadged Brocade Ethernet switches. The first is the PowerConnect B-TI24X, a fixed-port, top-of-racker that has 488 Gb/sec of aggregate switching capacity and a 1.5 microsecond latency jumping from port to port in the switch. The device comes in two flavors: one supporting 24 10GE ports and another that supports 24 ports that can negotiate Gigabit or 10GE speeds as well as offering four RJ45 ports that run at Gigabit and slower speeds for legacy connectivity.

Brocade's Dell's PowerConnect B-TI24X top of racker
The B-TI24X supports up to 32,000 MAC addresses and up to 4,000 VLANs. The main selling point for this device is not how many devices it can talk to, but thermal efficiency. Dell says that it burns 7.3 watts per 10GE port, or a total of 176 watts, when the switch is under load. The switch comes with a single 300 watt power supply, which can be doubled up for redundancy. The ports support older SFP cables used with Gigabit Ethernet links, but also supports SFP+ copper or optical cables when servers move up to 10GE speeds.
The next tweaked Brocade devices in the PowerConnect lineup launched today include the four stackable switches known as the B-FCX(s) Series. (Who names these things?) The FCX 624 has 24 Gigabit Ethernet RJ45 ports plus optional modules that allow you to plug in an additional four Gigabit ports or four 10GE ports using SFP+ cables. The FXC 624 has a switching bandwidth of 128Gb/sec and has a stacking bandwidth of 40Gb/sec if those 10GE ports are used for stacking. (This turns up to eight switches into a single, logical switch from the perspective of network admins.)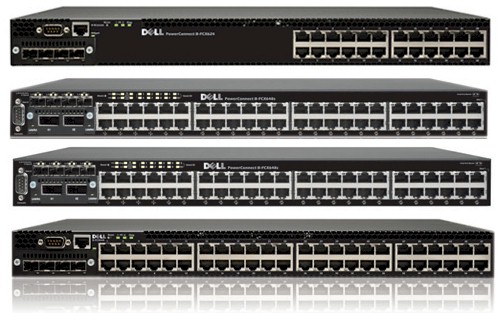 The PowerConnect B-FCX(s) series of Gigabit/10GE switches
The FCX 648, as this name suggests, offers 48 Gigabit ports, with the same optional Gigabit or 10GE modules to add another four ports to the box. The switching bandwidth on the FCX 648 is boosted to 176Gb/sec, not doubled to 256Gb/sec however.
The FCX 624s and FCX 648s switches are variants of these two switches, but with a few tweaks. First, they have more switching bandwidth, with the 24-porter getting 152Gb/sec and the 48-porter getting 200Gb/sec. The module with Four Gigabit Ethernet ports comes standard, and there is another 10GE module supporting two ports using XFP cables. The FCX 624s and 648s switches also feature dedicated stacking ports so you don't have to burn other ports in the device to lash them together logically.
All of the B-FCX(s) switches support 32,00 MAC addresses and up to 4,906 VLANs. They all have a 210 watt power supply, and customers can slide in a second one for redundancy. Dell says the B-Series switches announced today have a starting price of $4,945. This is a mostly useless number, but that was the only price we could get out of Dell when El Reg went to press.
That low price almost certainly does not apply to the PowerConnect B-DCX 4S director-class chassis switch, also coming out today. This modular switch is designed to consolidate Fibre Channel links out from servers to storage area networks. The B-DCS 4S director switch has an aggregate 2.54Tb/sec of chassis bandwidth, and each of the eight blades in the chassis offers 24 10GE ports that are capable of supporting both server LAN and storage traffic (the latter using the Fibre Channel over Ethernet protocol) if the servers are equipped with converged network adapters.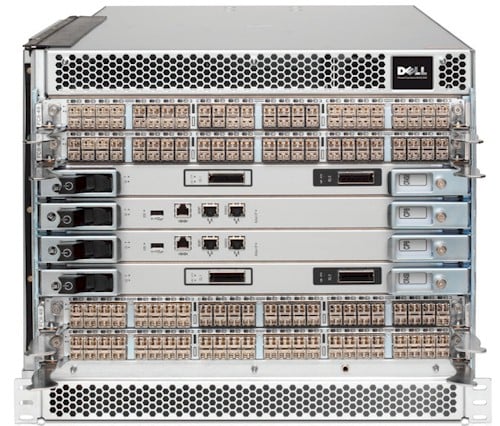 Dell's B-DCX 4S server-SAN director switch
Each B-DCX 4S director switch supports up to 192 universal Fibre Channel ports running at 8Gb/sec speeds; you can link two of the chassis together if you need 384 ports. The box comes with two 2,000 watt power supplies, and Dell says that the switch is supposed to offer 99.999 per cent availability with all of the redundant components in the box.
Finally, Dell is putting out some new W-Series wireless controllers and access points with a little help from partner Aruba Networks. The PowerConnect W-6000 chassis supports up to four W-6000M3 controller modules, which connect upstream networks in the data center to 512 different LAN access points on the corporate campus and 1,024 remote access points. (That's 2,048 LAN access points and 4,096 remote access points in total per controller chassis.) The controllers do authentication, encryption, virtual private networking, firewall, and wireless intrusion and policy enforcement.
Each W6000M3 module supports up to 64,000 MAC addresses and 1,400 VLAN IP interfaces; up to 524,300 active firewall sessions can he handled by one of the modules and has a throughout of 80Gb/sec. With 3DES encryption turned on, the module delivers 8Gb/sec of bandwidth, and with AES-CCM encryption on, you're down to 4Gb/sec.
Dell has also picked up Aruba's ruggedized wireless access points, which are intended for outdoor deployment. The W-AP175P access point has two dual-band 2.4GHz to 5GHz radios, and is just the kind of thing that teenagers with rifles will shoot at. Hopefully they are not too expensive. Pricing was not supplied by Dell. ®