Computers taught to sing using autotuning talent show
Avoids need for 'fictionalised family tragedies'
Japanese boffins say they have developed a process whereby computers can be taught to sing so well that they are indistinguishable from talented human performers.
It was already possible to produce artificial singing, by inputting lyrics and musical scores into software packages such as Vocaloid. The results are easily distinguished as artificial, but this can be remedied by careful tweaking to add such things as tremolo and vibrato effects.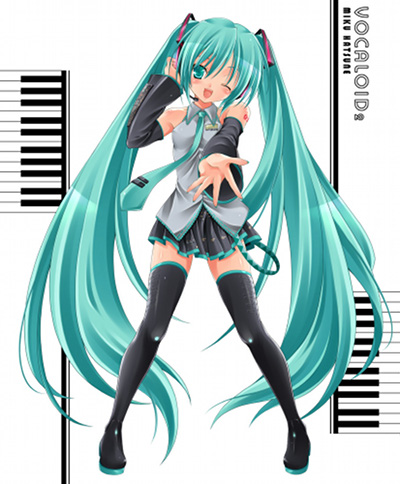 Vocaloid's Hatsune Miku, a singing synthesizer application, was based on the voice
of Japanese voice actress Saki Fujita. The new-school tech means synthetic vocals
can be achieved without real-voice input.
This process, however, is time-consuming and leaves artefacts in a recording which give away its artificial source. It's possible to automate the tweaking process, but – according to Akio Watanabe and Hitoshi Iba of Tokyo University's IBA Laboratory, anyway – this has so far required furnishing the software with a human rendition of the same song, rather defeating the point of the exercise.
Watanabe and Iba say they've cracked this, however, by using an "evolutionary" process to refine an artificially generated song. This involves running Vocaloid eight times with the output tweaked in eight random different ways. A human producer listens to the eight results and moves slider bars in the software to reflect how well each "frequency curve" modification has performed in certain respects.
The curves which produced the best results are then used as "parents" to create a new generation and the process is repeated as required in a survival-of-the-fittest process apparently somewhat akin to a TV talent show.
"Eventually, the fittest frequency curves will emerge that endow the synthetic vocal with the most realistic characteristics of human singing," says Watanabe.
A statement issued by the IBA lab adds:
For anyone who is bored with the so-called real-life characters that present themselves to TV "talent" shows, an optimized frequency curve and a synthetic vocal could be the new sensation they are looking for, but without the baggage of bad teeth, terrible hair extensions and fictionalized family tragedies.
The researchers' paper Creating singing vocal expressions by means of interactive evolutionary computation is published in the International Journal of Knowledge Engineering and Soft Data Paradigms. ®