Panasonic TX-P42GT30 42in plasma 3D TV
Class act
Spec savers..?
However, no 3D glasses are supplied with the set. Instead you're asked to stock up on the brand's Active Shutter eyeware as and when you need them. This will prove to be an expensive accessory drive. Is this Panasonic playing down the importance of 3D? Or is it simply trying to manage costs? Regardless, the TV maker is now only including glasses with its top-end VT30 models.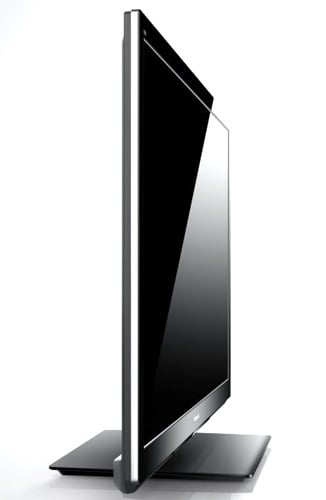 3D set with Freeview HD and Freesat HD tuners and Net TV on-board, what's not to like?
Audio quality is adequate for screen of this size. The two 10W, downward firing stereo speakers, are clear without sounding overly thin. For those that want to tinker there are User, Speech and Music DSP modes. The TV is sans subwoofer, but my advice would be to partner this with a separate sound system for movie watching anyhow.
Verdict


Overall, I would rate the TX-P42GT30 as an outstanding TV. And should you want to spring for those expensive Active Shutter glasses, the 3D image is clean and immersive, its network functionality is first rate and 2D image quality is deeply satisfying. A score of 90 per cent seemed fitting on performance, but loading ads onto the EPG is Panasonic's ongoing conceit that ignores the user experience and can't be endorsed. Tempting though it is to knock it down to 50 per cent, at least the Freesat tuner EPG is ad-free, so it escapes a punishment beating. ®
More TV Reviews

Panasonic
Viera
TX-L37DT30
Samsung
UE55D8000
Ten…
40-42in
net connected HD TVs
Philips 21:9
Cinema
Philips
Ambilight
46PFL9705H

Panasonic TX-P42GT30 42in plasma 3D TV
Plasma 3D TV with both Freesat and Freeview HD tuners and Internet telly too.