Parents get iOS analytical toolkit to track kids' progress
With Facebook links to show off their progeny's intellectual prowess
Busy parents worried about raising their kids while making full use of their data plan can now use The SmarTots platform to keep tabs on how their children are progressing though their (iOS-powered) education. The app will even suggesting new applications and even some offline activities should time allow.
Parents have, until now, lacked the power to monitor just how brilliant their offspring are. But SmarTots not only reports back weekly on the areas in which one's own miniature genius excels – with Facebook links for instant bragging – but also suggests other applications which might usefully occupy the little one's mind for another hour or two.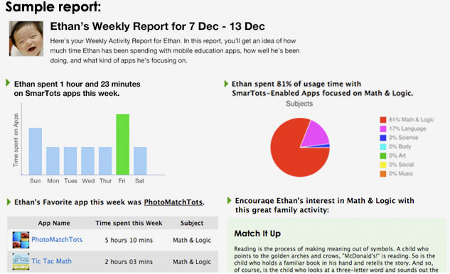 SmarTots also makes suggestions for other activities which might aid the child's development, such as talking to them or playing for a bit, but that can eat into a parent's valuable "me time" and, more importantly, doesn't contribute to the company's revenue.
SmarTots plans to make money by charging developers to integrate with the platform, and referral fees when the busy parent decides to download another application instead of spending some quality time with the kids. Asian tech blog Penn Olson spoke to the founders of SmarTots, who report having seen 200,000 downloads of enabled applications already.
We already devolve the raising and education of children to our television sets, so one has to wonder if using an iPad or iPhone is really any worse, and at least if the applications are using SmarTots then we'll get weekly reports on what they're playing with – which is more than CBBC ever provided. ®