JVC Everio GS-TD1 3D camcorder
Purpose-built stereo shooter for Avatar aficionados
Automatic for the people
3D depth during recording and playback can be adjusted dynamically by an Automatic Parallax Adjustment button, also accessed via the touchscreen monitor. Normally this is set to Auto, and calculates where the screen plane (zero parallax) should be for the most comfortable viewing. However, if you want slightly more 'outy' footage, you can manually tune to get the effect you want.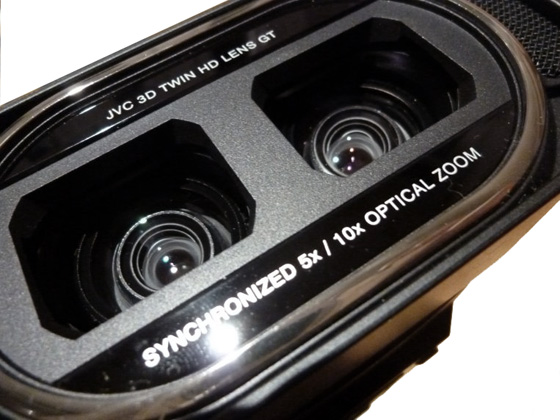 Only the left lens is used for 2D shooting
The camera's IA mode will probably be the preferred option for most users, although there is a manual override. Footage is recorded to an internal 64GB flash drive, but you can bolster this with SD/SDHC/SDXC cards.
Although the ability to shoot in MVC is exciting, it's not particularly practical. The format is currently impossible to edit and archive. If you're happy simply to play unabridged MVC straight from the GS-TD1, fill your boots. However, if you want the freedom to edit, copy and distribute 3D your 3D masterpieces, then working with Side-by-Side AVCHD makes much more sense.
This is particularly true given that the TD1's other trick is shooting Side-by-Side without distracting borders. This makes your footage look like broadcast 3D.
Of course, you're not confined to 3D. The camera will also shoot 2D hi-def AVCHD (or even lowly SD), recording only the left lens feed. Flipping between dimensions is made easy though the large backlight 3D button on the GS-TD1's stern. The quality of the camera's 2D footage is very good, but I don't think it's quite on par with dedicated 2D 3CMOS alternatives.


The sense of depth conveyed by the GS-TD1 is extraordinary. Footage shot in Trafalgar square, with a fountain spraying water in the foreground, engaged in a way 2D simply doesn't. Crowd scenes take on depth. Before long, composing for 3D becomes second nature. You're always looking for an interesting foreground 'anchor' for your shots.