Everest climber finds 3G signal, sends Tweet
Cloudline computing
A British climber has allegedly become the first person to Tweet, use Facebook and make a 3G phone call from atop Mount Everest today, raising the point that nowhere, not even the top of the effin' world, is safe from the reaches of cellphones and social networking.
It was the ninth occasion the unlikely named Kenton Cool has reached the summit, this time with a Samsung Galaxy S II. As well as making the first 3G phone call at the peak of the world's tallest mountain, Cool updated his Twitter and Facecrack status, and uploaded a picture for all to see.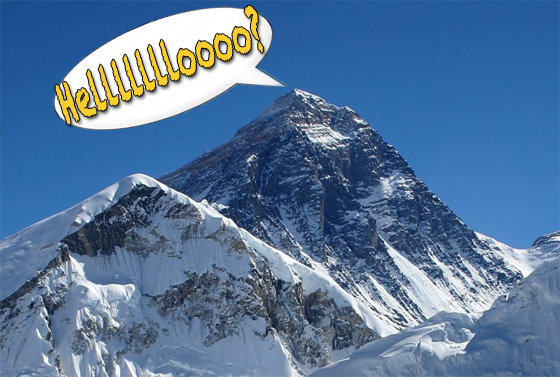 The climber connected to 3G masts erected last year, which brought online services to Nepalese inhabitants and mountaineers, who in past climbs, were forced to lug around heavy satellite phones. Or simply not bother ringing to tell people where they are.
You just can't run from the ringtone can you? Even above the clouds on the world's peak, someone'll get you.
"Sorry, I can't do that - I'm so snowed under right now."
Perhaps London Underground - which has decided against cellular connectivity in time for the Olympics - is the only remaining safe haven.
Well, that and my loo for some reason, but it's more dangerous than Everest in there. ®
Sponsored: What next after Netezza?