Samsung quietly lowers tablet graphics chip spec
Not only 3G that the Wi-Fi-only Tab lacks
Samsung has annoyed buyers of the Wi-Fi-only version of its 7in Galaxy Tab Android tablet by equipping the gadget with seemingly lesser chippery than the 3G model.
The Galaxy Tab Wi-Fi - aka the P-1010; the original is the P-1000 - also comes with Bluetooth 2.1 while the 3G-enabled Tab comes with Bluetooth 3.0, but since that's clearly mentioned on Samsung's product pages, no one can really complain about it.
No, what's got some buyers' irate is the choice of CPU platform. The 3G Tab uses a Samsung ARM chip, but it has been discovered by users comparing the two tablets that the Galaxy Tab Wi-Fi uses a Texas Instruments OMAP processor.
Both parts are clocked at 1GHz but differ in graphical performance: the on-board GPU on the Samsung part is an Imagination Technologies PowerVR SGX540. The Galaxy Tab Wi-Fi has a PowerVR SGX530, a lesser part, as revealed in a number of screen snaps posted at XDA Developers forum: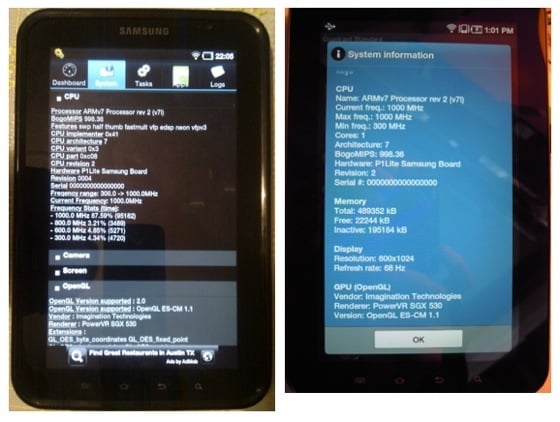 Source: XDA Developers
Certainly, some Galaxy Tab Wi-Fi buyers noticed the tablet's UI animations runs less smoothly than they do on the original Tab. More to the point, others claim the change makes the Galaxy Tab Wi-Fi less than optimal for HD video playback.
Samsung doesn't make any but the broadest of claims on it website about either model's graphical capabilities or raw performance, but some Galaxy Tab Wi-Fi will have bought the model assuming, not unreasonably, that its spec matches that of the 3G Galaxy Tab - minus the cellular network connectivity, of course.
We've asked Samsung to comment. We'll report back when it does. ®