Elgato Tivizen iOS Wi-Fi TV tuner
Freeview on your fondleslab
App issues
With a channel you can view on the screen, Elgato's standard Eye TV UI appears, and includes both battery and signal-strength readings, plus EPG and channel info. Tap to get rid of this and watch the programme full-screen.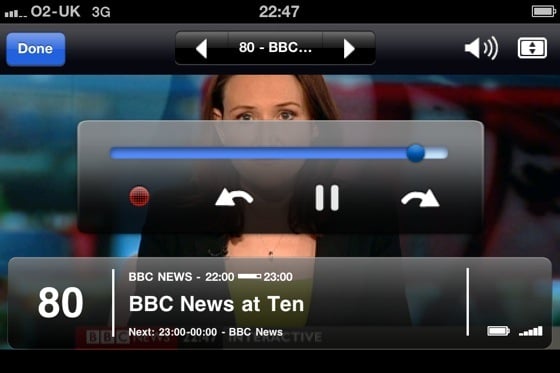 DVR-style functionality included...
Like the Mac-based Eye TV, Elgato's Tivizen software - available for free, from the App Store, unlike its iOS viewer for Eye TV - has basic DVR functionality: pause and rewind live telly, and record programmes for later viewing. No EPG means no scheduling, of course, but the full-resolution recordings, though MPEG 2 files and accessible through iTunes, are tied to Eye TV.
Alas, on my iPhone 4 even channels with a full signal strength didn't play back entirely smoothly, with occasional stutters to spoil the flow. Freeview? Tivizen? WLAN? Elgato's app? It's hard to say where the blame lies, but the latter didn't gain the benefit of the doubt thanks to very frequent crashes. The failures were random and usually came when I tapped on a button or changed menu - a sure sign of memory problems. I don't have a lot of apps running but I shouldn't have to close them manually to suit another one, in any case.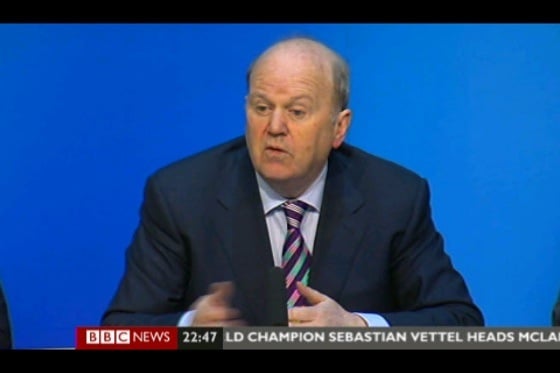 ...or view full-screen
iOS 4 has mechanisms to close down apps when memory runs low, so the Tivizen software's woes are its own fault, not the platform's. And you can't blame iOS for a recording becoming mysteriously truncated between viewings.
The app may be free, but the hardware costs a whopping £150 - too much , I think, for occasional usage. A hundred quid would be reasonable, but only when the iOS app improves somewhat.
Verdict
Freeview signal strength aside - this affects all mobile tuners - the Tivizen is a clever gadget but one limited by poor initial software. Apps can be updated, of course, but that won't change the fact that, thanks to catch-up TV services like BBC iPlayer and to domestic DVRs, few of us really need to watch telly while we're out and about. Worried about missing something? Watch it later, or watch it online. The picture will be better and your viewer probably won't keep falling over. ®
More Gadget Reviews

H2O
Apple Digital
AV Adapter
Griffin
PowerDock
Dual
Iomega
SuperHero
Nokia
DC-14

Elgato Tivizen iOS Wi-Fi TV tuner
Mobile Freeview TV tuner that beams shows to iPads, iPods and iPhones over Wi-Fi.