Panasonic refreshes 3D Blu-ray recorder range
Changing dimensions
Panasonic has added depth to its Blu-ray recorder range, with the introduction of two 3D compatible models, the DMR-BWT800 and DMR-BWT700.
Each recorder packs twin Freeview HD terrestrial tuners for simultaneous recording of two separate channels. Subtitles and 5.1 sound settings can also be captured.
Users can save TV programs to the HDD, convert them into 3D and subsequently eyeball their favourite soaps with increased dimensions. Finally an incentive to watch Hollyoaks perhaps?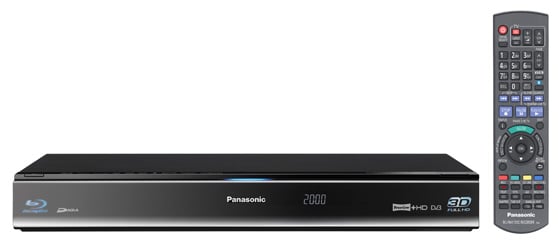 Both devices can record onto a dual-layer Blu-ray Disc and come with a memory card slot for viewing AVCHD files, images and 3D material such as MPO files. Content can be copied across to the hard drive or burnt direct to Blu-ray.
The models also boast DLNA functionality, Wi-Fi, Skype and compatibility for Panasonic's new iPhone remote app.
The DMR-BWT800 comes with a 500GB HDD and costs £500, while the DMR-BWT700 has 320GB and will set you back £800. ®
Sponsored: What next after Netezza?