SGI juices sales, narrows losses in Q3
'This year. It's all coming together. Promise'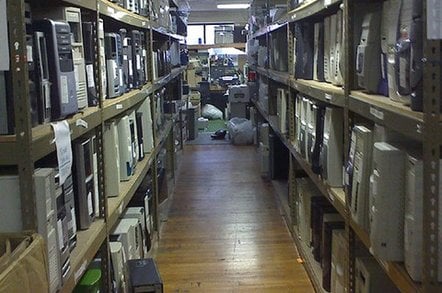 Silicon Graphics is moving towards profitability after many years of struggle, and thinks that fiscal 2012, which starts in July, will be the year that it all finally comes together.
In the third quarter of fiscal 2011 ended in March, there were definitely signs that the company was moving in the right direction with both its top and bottom line. The top line has been boosted by the combined and fleshed out server and storage products in the long wake of the combination of Rackable Systems and the old Silicon Graphics as well as the acquisition of the assets of disk array maker Copan a little more than a year ago. The bottom line has been helped by increasing revenues and a layoff of 55 employees, or about 4 per cent of its 1,375-strong global workforce, that SGI did in February to get to profitability in the coming year.
During the Q3 quarter just ended, SGI's overall revenues jumped 33.2 per cent, to $143.7m, and gross profits rose 40 per cent, to $40.5m. Even with cost controls, however, SGI's operating costs were larger than its gross profits, and it booked a $3.85m loss on operations, which was softened to a $1.67m net loss after other income was added in. In the year-ago period, SGI's revenues were only $107.8m and it booked a net loss of $20.2m.
Mark Barrenechea, SGI's president and CEO, said in a conference call with Wall Street analysts that this was the strongest third quarter to date in SGI's history. On a non-GAAP basis, which includes revenues that came from deals in the quarter but which will book in part in following quarters, SGI's sales were $135.8m (up 5 per cent), net income was $2.3m (compared to a $10.8m loss a year ago), and earnings per share went positive to 7 cents a pop. On that same non-GAAP basis that SGI likes to use to talk about its business because it believes it is a more accurate reflection of what is going on, product sales represented 72 per cent of revenues while services accounted for the other 28 per cent.
That's $97.8m for products, and of that, 68 per cent, or about $64.5m, was for servers and the rest, about $33.3m, was for storage. Storage grew a bit sequentially and servers were actually down, but Barrenechea said not to read too much into it, that it was just a matter of some deals slipping into the next quarter, as tends to happen in the choppy HPC and hyperscale data center areas.
SGI sold 3M one of its Altix UV shared memory servers running Microsoft's Windows Server in the quarter, and Barrenechea said that while the Windows-on-Altix UV offering that SGI announced in March, spanning up to the maximum Xeon processor core and main memory limits that Windows supports, was getting a lot of attention, SGI expected only "minimal impact" for fiscal 2011, which ends in two months.
However, the Altix UV machines running Windows are all part of the growth plan for fiscal 2012, allowing SGI to chase customers who want to build out fat Windows boxes to host their data warehouses in Microsoft's SQL Server or Oracle's 11g databases running on Windows Server 2008 R2. The Altix UV machines can support up to 256 cores and 2TB of main memory running Windows Server, and that is as far as the Windows kernel scales. The Altix UV server itself can scale to 2,048 cores and 16TB of main memory, so any time Microsoft wants to pump it up, SGI is ready.
Another part of the growth plan for fiscal 2012 is much larger Altix ICE Xeon clusters, which will be based on future Intel "Sandy Bridge" Xeon processors and "Romley" server platforms. Barrenechea did not get into specifics, but he said that combining the new Romley server platforms with Fourteen Data Rate (FDR) InfiniBand switching (which runs at 56Gb/sec), SGI's Altix ICE Xeon clusters would be able to cram 1 petaflops of number-crunching power into about five server racks. That is a factor of 20 compression in floor space over the current Altix ICE machines, Barrenechea said, and will allow SGI to compete for "hundreds of millions of dollars in RPs"
SGI is supporting Nvidia GPU co-processors as well as Tilera multicore integer co-processors in its machines, and is "paying very close attention" to Intel's x64-based Knights platform of co-processors "because you don't have to change your code."
The public sector, including the US Department of Defense, Department of Homeland Security, and other agencies such as the US Postal Service, accounted for 48 per cent of non-GAAP sales for SGI in the third fiscal quarter. Barrenechea said that Uncle Sam bought four of its ICE Cube containerized data centers in the quarter, and that its Federal business was growing and that he expected that to continue into the next fiscal year.
Cloud computing operators (including retailing giant and compute cloud vendor Amazon) accounted for 21 per cent of sales, while manufacturers were an 11 per cent slice and telecom companies accounted for a 5 per cent slice. Amazon and the US government each accounted for more than 10 per cent of SGI's revenues during the quarter.
About 66 per cent of SGI's sales came from inside the United States, with 34 per cent coming from outside the country; 21 per cent of its revenues were drive by channel partners in the quarter, with the rest being done the old-fashioned way with a direct sales force.
Looking ahead to the final quarter of fiscal 2011 ending in June, Jim Wheat, SGI's CFO, affirmed the company's previous guidance for the full 2011 fiscal year. On a non-GAAP basis, SGI expects sales of between $600m and $625m and to be profitable on an non-GAAP EPS basis for the year. In the final quarter of the year, if you do the math, that means sales of between $148m and $173m, or about $160m at the midpoint. (Again, that is non-GAAP, not recognized, revenue.) "It should be a relatively strong compute quarter for us," Barrenechea added, to quell any concerns Wall Street might have about the sequential decline in server sales from Q2 to Q3.
For fiscal 2012, SGI's plan remains the same: to grow sales on a non-GAAP basis by 15 to 20 per cent, to keep operating expenses only growing at between 10 and 12 per cent, and to be profitable. Barrenechea added that the company could boost its sales force by between 5 and 10 per cent in the coming year to help it chase more deals with its bigger iron. ®
Sponsored: How to Process, Wrangle, Analyze and Visualize your Data with Three Complementary Tools