Natty Narwahl: Ubuntu marine mammal not fully evolved
One day, Unity will grow legs
Beyond Unity
Ubuntu has done a good job of solving many of the application bugs that plagued the beta release. Firefox is now at version 4, though as with GNOME 3, Firefox is not as tightly integrated into the new interface as other apps. For example, the hanging scrollbars don't work in Firefox.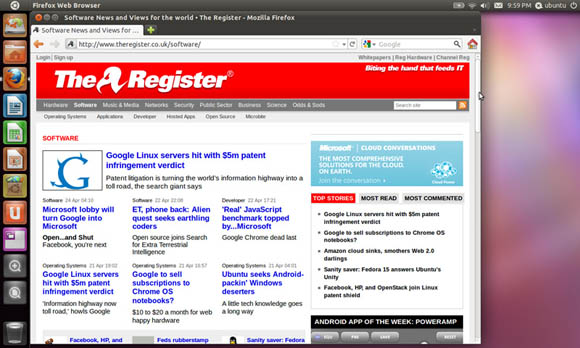 Firefox, thankfully, sticks to traditional scrollbars – for now, at least (click to enlarge)
Banshee has also been updated for this release and no longer crashes every time you try to add a song. The final release of Ubuntu 11.04 also sees version bumps for Shotwell, LibreOffice, Gwibber, Transmission, and the rest of the standard GNOME app stack.
The Ubuntu Software Center has seen a makeover for Ubuntu 11.04, adding the ability to leave starred reviews. Even better, the Software Center now allows you to try out apps without having to commit to even a temporary installation. Instead the app is streamed from Ubuntu's servers in a pop-up window. The streaming previews don't seem to work with every app yet, but when they do it will make choosing among available apps a little bit easier.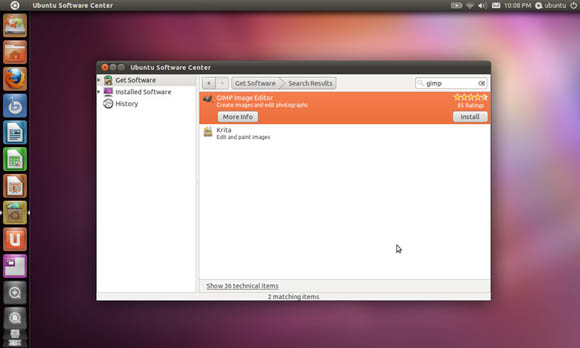 The Ubuntu Software Center allows you to preview (some) apps without installing them (click to enlarge)
Ubuntu One has also been improved, and now allows selective syncing. Also, the new launcher icon offers a progress meter so you can tell at a glance whether your files are synced or not. Canonical also claims that syncing is faster with this release thanks to improvments in how Ubuntu One scans your drive.
The Bottom Line
Canonical made an interesting last-minute change to the development cycle of Ubuntu 11.04. Instead of releasing RC1 after the beta, as typically happens, a second beta was released. Curiously though, there was no RC release after the second beta, which just adds to the feeling that Ubuntu 11.04 is unfinished.
Unity has potential, but it's tough to escape the feeling that it just isn't ready yet. Ubuntu's drive to bring something radically new to the Linux desktop just might work in the long run, but unless you want to come along for all the bumps along the way, we suggest skipping Ubuntu 11.04 and waiting for something more fully baked to emerge. ®