Motorola pushes laptop-dock Android phone at Brits
Express your interest
Orange has the UK exclusive on Motorola's netbook-powering Atrix Android smartphone, the US phone maker has confirmed.
The Atrix is a 1GHz dual-core handset with 1GB of Ram and 16GB of on-board Flash storage to which you can add the contents of a 32GB Micro SD card if you wish.
It's just 11mm thick and has a "qHD" 960 x 540, 24-bit colour screen, 2.4GHz/5GHz 802.11n Wi-Fi, and tri-band cellular connectivity.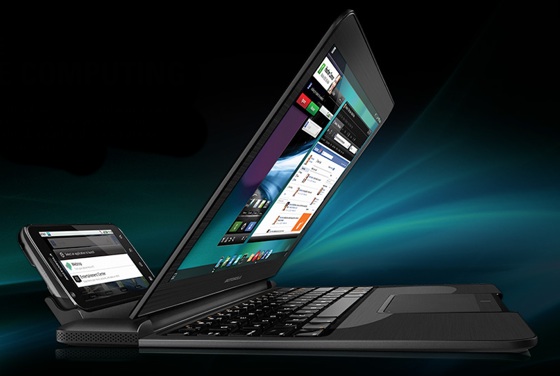 Atrix's novelty is a netbook-like 11.6in screen, keyboard and battery accessory - it's called the Lapdock - all in a slimline metal covered case. The Atrix clips snuggly into a dock behind the screen and provides the unit's memory, storage and processing power.
Atrix runs a dedicated desktop-style UI, complete with the Firefox browser and the QuickOffice suite, when it's docked.
You can read our hands-on report here.
Motorola still isn't saying when exactly Orange will allow you to buy an Atrix, through it's taking down expressions of interest if you ring it and say you want one. Call Motorola on 0800 079 2000. ®