Homer talks TomTom through iPhone app
Mmmm.. Little Chef
If satnav instructions from Darth Vader were beginning to tire, why not opt for some Homer Simpson instead?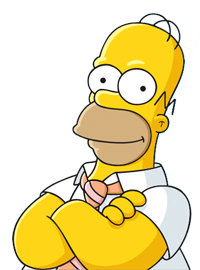 Those who use TomTom on the iPhone can now install the donut-muncher's characteristic voice to tell them when to make a U-turn. Developed in partnership with Twentieth Century Fox and Locutio Voice Technologies, the download also comes with the latest TomTom maps, version 1.7.
Homer first found his voice on TomTom in June 2009 and has been informing users where the next ice cream truck could be ever since.
I personally can't think of anything worse than having a complete moron talk to me while I'm en route, pointing out my mistakes and telling me when to stop. Then again, that does sound like a typical family holiday anyway.
If hearing "D'oh" upon every wrong turn is something you'd enjoy, then download Homer's voice for £3.49 on the TomTom iPhone App now. ®