Note to Mozilla: We don't get the Firefox billboards
Value trumps virtue
Open...and Shut Although people often contribute to charities because "it's the right thing to do," they rarely give to businesses on this basis. That's why it's strange to see industries turn to "guilt trips as business models," as GigaOm's Matthew Ingram terms newspapers' recent business-model experiments.
The news media and its apologists talk about the importance of funding an independent media, as if it were a charity that we are somehow morally bound to support.
It's not.
News is a business, and normal business rules apply – which is why Jeff Jarvis, noted author and associate professor of City University of New York's Graduate School of Journalism, takes the apologists to task with his "rules for business models," which apply to news media and, really, to all businesses.
A few of my favorites:
"Should" is not a business model. You can say that people "should" pay for your product but they will only if they find value in it.
Virtue is not a business model. Just because you do good does not mean you deserve to be paid for it.
No one cares what you spent. Arguing that news costs a lot is irrelevant to the market.
The only thing that matters to the market is value. What is your service worth to the public?
While it's easy to apply these to news organizations, these principles also apply to other businesses – such as open source software companies and foundations, for example.
The traditional open source model – charge for support around an open source project and pray enough people pay – has serious problems. The primary problem? As customers seek to contain costs, they will almost invariably cut out the easy costs of software acquisition. Proprietary license fees must be paid. Support fees? Maybe, maybe not.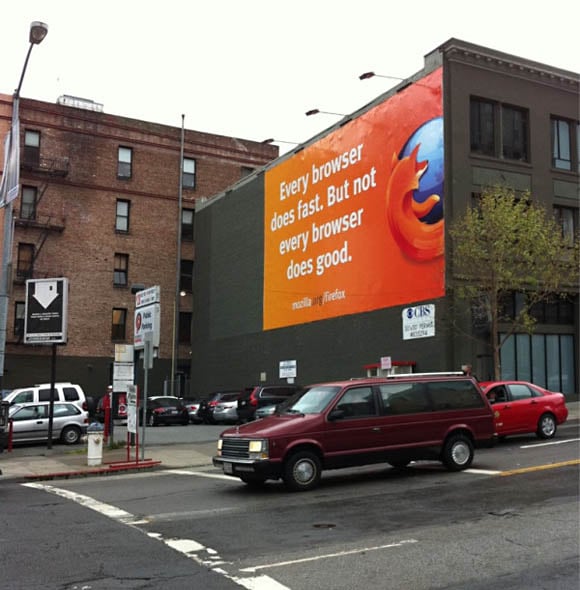 Mozilla Firefox ad
In but one example among many, I once had a customer who was spending roughly $100 million to build out a centralized document repository. The vast majority of the money was budgeted for services, with a smaller chunk for hardware. This left nearly $15 million for software acquisition. Despite my company being the absolute heart of the project – the one thing that if removed, everything fell apart – this organization chose to go cheap on our support fees so that it could pay more for Oracle database licenses, etc.
Think about that: a $100 million project built around open source software for which they were going to spend less than $50,000 in support fees. Had we been a proprietary software company we would have gleaned at least $5 million for the same project.
It didn't matter that we had spent just as many resources developing our software as the proprietary alternatives. It didn't matter that we offered higher value. What mattered was that the customer could justify spending minimally on support, but couldn't get around the proprietary vendors' licensing fees.
In short, it may be comforting to think that people will pay you for doing good deeds, but that comfort is unlikely to pay your bills.
This is one reason I'm puzzled by Mozilla's new ad campaign for Firefox. The foundation has plastered San Francisco with billboards and other ads talking up Firefox as more than just a speedy browser. "Every browser does fast. But not every browser does good," proclaims one ad.
The problem is that few to none care. Consumers and enterprises just want a fast, secure browser. Firefox happens to offer both. The claim that it also "does good" is irrelevant, however much it may serve as an internal rallying cry to the Mozilla employees who write and promote the browser.
Mozilla, unlike the news organizations, isn't trying to guilt people into buying its browser. The browser is free. Mozilla just wants more people to use Firefox, both for ideological reasons (Mozilla cares deeply about freedom) and for monetary reasons (more people using Firefox means more people using search, which means more fees paid by Google and others).
I doubt if many people will be convinced to use Firefox because it somehow makes the world a better place. Consumers and companies are far more pragmatic in their decision processes. We want something to work, and hope to get it at the lowest possible cost.
It's often those industries that find their comfortable business models challenged who turn to morality-based arguments. Microsoft argued that open source was somehow "un-American" because it challenged the way Microsoft made money. News organizations want us to believe that we're duty-bound to support their traditional means of paying for news gathering and dissemination.
But we're not. Quite the opposite. Industries become weak when propped up by artificial supports, government-provided or otherwise. They become strong as we adapt to changing environments.
Entrepreneurs will always find a way to make money as industries change. The fact that they will often be different entrepreneurs from those that gave us our last round of news/software/whatever shouldn't trouble us. It's the normal cycle. ®
Matt Asay is senior vice president of business development at Strobe, a startup that offers an open source framework for building mobile apps. He was formerly chief operating officer of Ubuntu commercial operation Canonical. With more than a decade spent in open source, Asay served as Alfreso's general manager for the Americas and vice president of business development, and he helped put Novell on its open source track. Asay is an emeritus board member of the Open Source Initiative (OSI). His column, Open...and Shut, appears twice a week on The Register.