Animal lovers stamp on goldfish racing
Washington bar cancels piscine derby
A bar in Washington state has been obliged to cancel its weekly goldfish racing event following complaints from less-than-impressed animal lovers.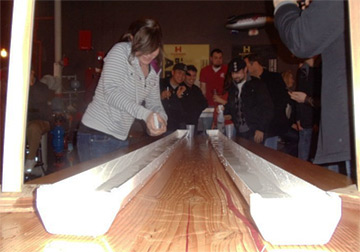 Every Tuesday night, the Harmon Tap Room in Tacoma filled two eight-foot long troughs with water, threw in some "10 cent feeder fish from the pet store" and let punters encourage the creatures down the course with water squirters.
According to this report, the bar started to get phone and email complaints "from people claiming to work with PETA", after it posted a video of the sport on Facebook.
Barman Joel Cummings said: "I guess someone took a video of one that jumped out of the trough and landed on the floor."
He insisted, however: "We took care of them when they weren't racing. Occasionally they would pass away."
The goldfish derby is no more, but the bar is now punting "$5 for 2 Fish Tacos every Tuesday!!" ®
Bootnote
Thanks to Dennis Price for the tip-off.
Sponsored: Becoming a Pragmatic Security Leader