Tron: Legacy 3D Blu-ray disc set
2011's home cinema demo movie?
A certain ratio
Both Blu-rays feature the IMAX cut of the film. This version has around 40 minutes of vertically expanded material, originally composed for the larger IMAX screen. Consequently, the aspect ratio sporadically shifts from 2.35:1 widescreen (with black bars top and bottom) to 1.78:1 (full 16:9). Last time saw this dual aspect ratio trick used was on The Dark Knight Blu-ray.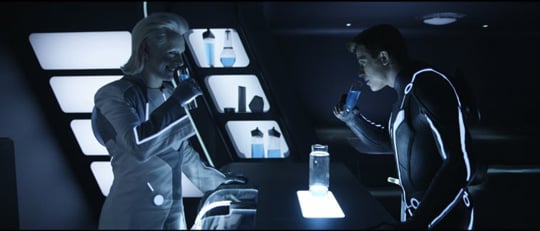 Fancy a blue lagoon?
The soundtrack is a DTS HD Master Audio 7.1 mix, and it rocks. There's more ludicrous LFE here than on all the Blu-rays I've watched over the past six months combined. Daft Punk's electro-symphonic score pounds relentlessly from every corner of the room, for the best part of 125mins. Great if you live in a detached house, potentially nightmarish if you don't. I'd rate it as the best Blu-ray soundtrack since Inception.
There's only a moderate collection of bonus features, which are confined to the 2D disc. These include some behind the scenes stuff, a mockumentary to link the two films and a teaser for the new Tron animated TV series. Tellingly, there's no BD Live content.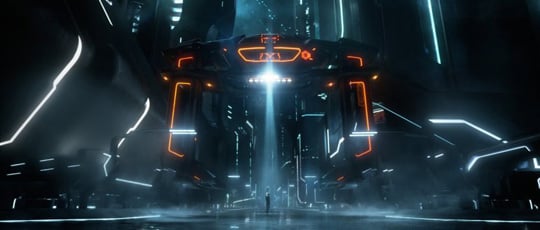 Beam me up
Verdict
While the merits and logic of the storyline can be debated, there's little doubt that Tron: Legacy sets a new benchmark for the 3D Blu-ray format. With Avatar 3D still unavailable to buy, this should be considered the must-have demo disc for 3D TV owners. Even if you're pondering a 3D upgrade later in the year, you'll still have all bases covered if you spring for this version now. Resistance is futile – oops, sorry, wrong franchise. ®
More AV Reviews…

Arcam
FMJ AVR400
AV receiver
Samsung
BD-D6900
3D Blu-ray player
Panasonic
TX-L37DT30
3D TV
Six... budget
Blu-ray players
Group Test
AV Receivers
Sponsored: From CDO to CEO

Tron: Legacy 3D Blu-ray disc set
Raises the bar for the 3D Blu-ray experience, even if the screenplay doesn't quite manage the same level of entertainment.