Semi sales air-kiss $300bn in 2010
Best year in history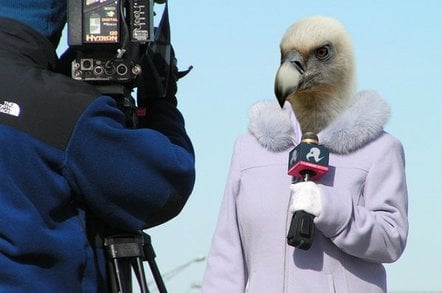 The prognosticators at chip market watcher Gartner have had a tough time trying to predict what the world's appetite for semiconductors would be in 2010, but they knew one thing for sure. People are hungry for the electronic gadgets and gizmos that have lots of chips in them, and the numbers were going to be up from 2009 and would set a new record revenue level for the industry.
After its most recent gaze into the crystal ball in early December of last year, Gartner was projecting that worldwide semiconductor sales would rise by 31.5 per cent, hitting $300.3bn and marking the first time sales broke through $300bn. (Yes, I know, a number is not a barrier. Unless, of course, you are talking about the speed of light in a vacuum. If you figure out how to break that barrier, please contact El Reg promptly.) As it turns out, the chip industry just missed Gartner's forecasts, with global chip sales hitting $299.4bn, up 30.9 per cent. As predictions go, that is about as close as they get.
"The industry-wide upturn was due to the combination of pent-up demand that had built in the wake of the worldwide economic recession, and rebuilding of semiconductor inventories that were significantly depleted during the recession and early recovery," explained Peter Middleton, principal analyst at Gartner, in a statement accompanying the chip stats. "The market began to surge in the second half of 2009, as demand recovery in a variety of market sectors resulted in strong order rates. This continued, almost frantically, during the first half of 2010 as demand soared, prices rose, and we saw lead times expanding significantly."
It would be interesting to see how much impact the rise of the tablet this year and the weakening of the PC industry had to do with shifting chip sales.
As usual, Intel was the big winner in the chip racket, with just under $42bn in revenues, up 25.6 per cent compared to 2009's sales levels and giving the company a 14 per cent share of the etched silicon wafer pie. Intel's growth did not keep pace with the overall market, but during the Great Recession of 2008 and early 2009, Intel's chip revenues didn't shrink as much as the overall market collapsed, either. Before the recession started at the end of 2007, Intel was growing at 10.7 per cent, compared to 3.8 per cent for the market as a whole, and it will be interesting to see what happens with Intel in 2011.
The most recent forecast from Gartner is from December and calls for semiconductor sales to hit $314bn in 2011, which is 5 per cent growth over 2010's levels. Consumer PCs are in a bit of a slump and tablets are picking up. A lot would seem to depend on how well or poorly Intel's low-end Atom processors fare. The company has a virtual lock on the x64-based server racket until the third quarter, when Advanced Micro Devices is expected to kick out its first "Bulldozer" Opteron processors for servers and when Intel will be prepared to meet the Bulldozers with its "Sandy Bridge" EN and EP series of processors, to be launched as the Xeon E7 series.
For 2010, Samsung Electronics was the number two seller of semis, with $28.1bn in revenues, up 58.3 per cent and buoyed by its DRAM and flash memory businesses, which accounted for about 80 per cent of the company's revenues from chips in 2010 by Gartner's estimates. Samsung is the number one supplier of DRAM memory in the world, and extended its share last year.
Toshiba ranked third with 12.4bn (up 28.7 per cent), followed by Texas Instruments – not including the recently acquired National Semiconductor – with $11.9bn (up 29.9 per cent). STMicroelectronics hit $10.3bn in sales in 2010 (up 22.3 per cent), with Renesas Electronics just behind it with $10.2bn (but up 124.7 per cent and bolstered by the merger of chip businesses from Renesas and NEC). Hynix Semiconductor, Micron Technology, Qualcomm, and Broadcom rounded out the top 10 chip suppliers, with Broadcom breaking into the top 10 for the first time in its history thanks to growth in its broadband, mobile, and wireless chips. Advanced Micro Devices, despite its acquisition of ATI, fell off the top 10 list in 2008.
The myriad other chip makers in the world accounted for 152.6bn, or 51 per cent of overall sales and up 22.2 per cent as a group.
The $299.4bn revenue level is a new high for the industry and is arguably the level the industry would have set in 2008 or 2009 if there had not been a Great Recession. (That is an El Reg estimate assuming a 3 per cent growth rate from 2007 through 2010.) Chip revenues worldwide were $263.9bn in 2006, and grew by 2.1 per cent to hit $269.5bn in 2007. Semi sales fell by 5.3 per cent to $255.1bn in 2008 and were hit even harder, down 10.4 per cent to $228.7bn, in 2009. If you attribute all of the difference between a 3 per cent growth annual rate in semi sales and what actually happened to chip sales during the recession, then the Great Recession wiped out something on the order of $85bn in chip revenues over the past four years. ®