Arcam FMJ AVR400 AV receiver
Brit audio dynamite
Review A new AV receiver from British stalwart Arcam is always worthy of note, as the brand has an enviable reputation for creating audio electronics that are uniquely musical.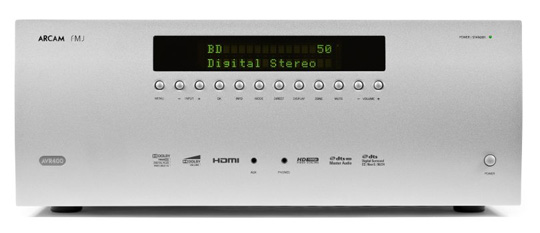 Musical box: Arcam's FMJ AVR400
An Arcam amp, be it a seven-channel monster like the FMJ AVR400 reviewed here, or one of the brand's lauded two-channel designs, never sounds like any of its Japanese competition. They're always somehow warmer, more enveloping. But the user is usually asked to pay a forfeit for such sonic pleasure, either in basic functionality or usability.
The AVR400 is clearly a close relation to Arcam's high-end AVR600. It shares the same minimalist design aesthetic (no volume control knob!) and distinctive green status window. It's available in both silver and black finishes.
Video connectivity comprises five HDMI v1.4a inputs, four phono/s-video inputs and three sets of component. These are mirrored with two digital optical and four coaxial audio inputs. One of the optical ports is pre-assigned to the Sat input, acknowledging that it will doubtless be used with a Sky box; the satcaster does not deliver multichannel sound over HDMI.
More real estate is turned over to a full set of preamp outputs and 7.1 multichannel audio inputs, principally for SACD and DVD-A hardware. In addition, there's also an RS232 input for use with Crestron or AMX system controllers, two 12V triggers for multizone equipment use, two IR external receiver jacks (again for multizone) and Ethernet LAN. iPod owners can take advantage of a terminal for the brand's optional irDock.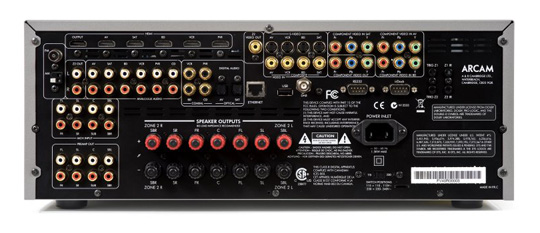 Interfacing abounds
There is, however, only one HDMI output, which will be problematic for users of projectors and flatscreens. By way of compensation, there is at least a component output. The unit ships with the brand's CR102 remote zapper. This is a learning remote able to control eight devices, accessed from dedicated device mode keys.
Sponsored: Beyond the Data Frontier