Sonim XP3300 Force rugged mobile phone
Tougher than a Newcastle nightclub bouncer
Review California-based phone manufacturer Sonim may not be an instantly recognisable name but it's no stranger to making robust mobile phones. It was behind the first JCB phone and currently builds the S1 for Land Rover. The XP3300 Force is Sonim's latest and greatest, the toughest of the tough, the bravest of the brave, the Marshal Ney of mobile phones.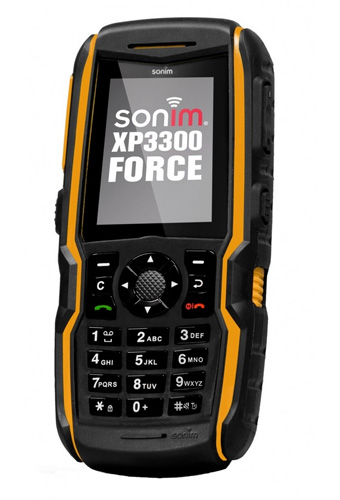 A real hard case: Sonim's XP3300 Force
The XP3300's credentials are pretty impressive – it's certificated to survive a 2m drop onto a concrete surface and IP68 rated as dust-proof and good for a one-hour dunking in up to two metres of water. On top of that the operational temperature range is -20 to +55 degrees Celsius, the speaker grille is sealed with Gore-Tex and the casing is made from a tough-as-old-boots combination of rubber and fibreglass.
The 1.5mm thick Gorilla Glass screen can, apparently, resist the equivalent force of a 50g steel ball being dropped on it from a height of four metres. As I as was fresh out of steel balls I hit it with a hammer and then drove over it with a Toyota Previa. The XP3300 shrugged both assaults off.
I'm sure if you hit the XP3300 hard enough with a large and sharp enough object you could break it, but in real-world terms it's a tough box of tricks – any tougher and it would probably take said sharp object off you and hit you back with it.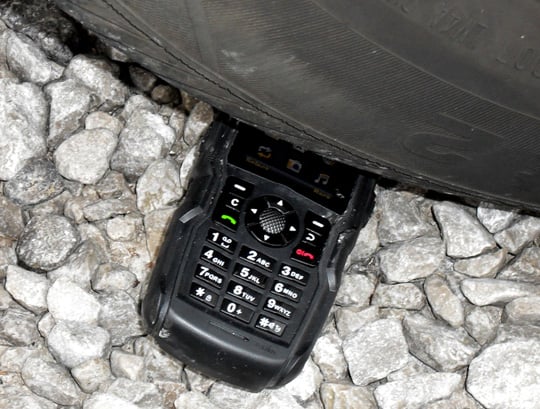 The industry standard, run it over with a Previa test
Survival of the user has been attended to with as much care as survival of the handset. The 1750mAh battery is good for between 20 and 24 hours of talk time – the maker claims it's the longest mobile talk time in the world – and 800 hours on stand-by. You still get 10 hours of talk time even with the GPS radio running continually. Regarding GPS, the XP had my latitude and longitude fixed within 15 seconds of my firing up the GPS app, which was impressive.
Sponsored: Minds Mastering Machines - Call for papers now open