NetApp becomes Quantum reseller
For StorNext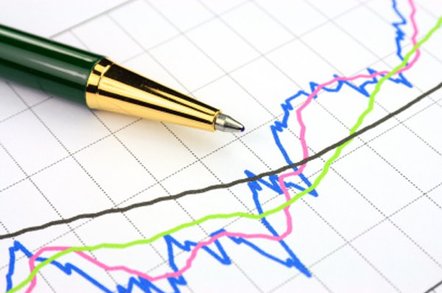 NetApp has signed up to resell Quantum's StorNext software, opening the way for it to sell hybrid disk and tape systems.
StorNext is a virtualised file system manager that provides both SAN and LAN access to a shared set of files with automated data tiering across fast disk, capacity disk and tape libraries, plus deduplication and data protection. There are more than 6,000 installations and it has found favour in the media industry.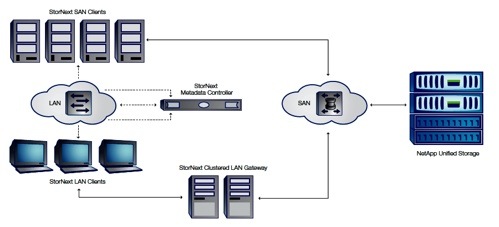 NetApp use with StorNext (NetApp)
NetApp will provide FAS arrays as a single disk array storage platform behind StorNext. This will enable NetApp arrays to be sold into existing and new StorNext accounts, with the StorNext software providing seamless and transparent access to the NetApp storage alongside the existing storage.
File deduplication could use Quantum's DXi technology in StorNext or the A-SIS technology in ONTAP, NetApp's array operating system. NetApp is already reselling Fujitsu's CentricStor VTL, which contains DXi deduplication technology, in Europe.
This Quantum NetApp deal is a coup for Quantum, adding huge credibility to StorNext as a substantial virtualised file system manager product. Fascinating prospects are now opened up for the company.
Rich media companies are all suffering or entering big data syndrome with large and growing file estates, and archives of files are often held on tape libraries. There is no alternative. Disk arrays are too expensive, take up too much data centre space, and are energy-intensive. The various optical formats – CD, DVD and Blu-ray – hold too little and don't form a homogenous large market, as is the case with LTO tape library suppliers and the capacious LTO-5 format.
There is also a reassuring roadmap out to LTO-8. Could NetApp end up reselling Quantum Scalar tape libraries? Such an about-turn would terminate the tape-is-dead argument at a stroke.
Is there a Bycast object storage angle with Bycast object stores incorporated into StorNext? This is may be off the wall, but could NetApp be thinking about an even closer business relationship with Quantum? ®