Panasonic beefs up 3D video camera
Older brother set for space shot
Panasonic has introduced an upgraded version of last year's breakthrough integrated-lens 3D video camera, and will send that now-superceded model into space.
"Less than a year ago, Panasonic simplified and lowered the cost-of-entry to high-quality 3D production with the AG-3DA1, the industry's first fully-integrated, 3D camcorder," said Panasonic Solutions Company honcho Joseph Facchini in a canned statement released at this week's National Association of Broadcaster (NAB) in Las Vegas, Nevada.
"Now, the shoulder-mount AG-3DP1 offers a larger imager, 10-bit color depth, AVC-Intra recording to P2 media, and EFP-style shooting to expand the universe of affordable 3D production," he added.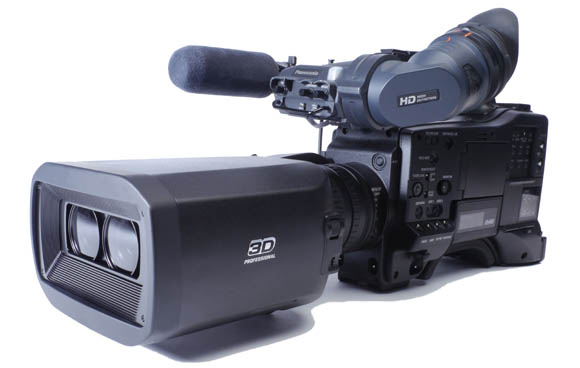 Panasonic AG-3DP1 (click to enlarge)
The new AG-3DP1, one of brace of Panasonic announcements at NAB, ups the zoom capability of last year's AG-3DA1 from 5.6X to a full 17X. Among its most welcome upgrades, however, is its move to Panasonic's P2 HD file-based, "instantly editable" recording system.
Don't feel sorry for the older AG-3DA1, however: it's getting a ride on the space shuttle Atlantis on June 28th to the International Space Station on NASA's final shuttle mission. Joining the 3D video cameras on their ISS-documentation trip will be Panasonic's BT-3DL2550 25.5-inch 3D LCD displays and ruggedized Toughbook laptops.
The P2 HD–capable AG-3DP1 will be available in fall. Panasonic didn't reveal pricing, but a company spokeswoman told us to expect it to command a premium above the $21,000 list price of its older, space-bound sibling. ®