Antarctic meteorite yields exotic new mineral
NASA scientists spy specks of 'Wassonite'
NASA has announced the discovery of a new mineral inside a "historically significant"* meteorite recovered from Antarctica in December 1969.
The exotic blend of sulphur and titanium was spotted in the 4.5bn-year-old Yamato 691 enstatite chondrite, which may have once formed part of an asteroid orbiting between Jupiter and Mars.
It has a "unique crystal structure that has not been previously observed in nature", according to NASA space scientist Keiko Nakamura-Messenger, who led the research.
The mineral has been dubbed "Wassonite", in honour of John T Wasson, a professor at the University of California, "known for his achievements across a broad swath of meteorite and impact research".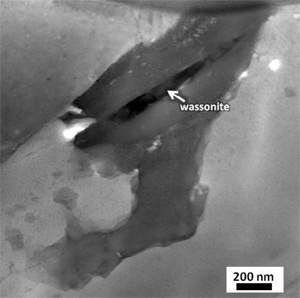 Anyone hoping to be the first to get a Wassonite kitchen counter top will be disappointed to learn that one sample is "less than one-hundredth the width of a human hair or 50x450 nanometers", and therefore unlikely to impress the neighbours (see pic).
Indeed, without NASA's transmission electron microscope - which is "capable of isolating the Wassonite grains and determining their chemical composition and atomic structure" - it would never have been spotted at all, the agency says.
Despite being nothing more than a few specks, Wassonite has been recognised by the International Mineralogical Association and added to its list of 4,500 officially approved minerals.
The meteorite may yet yield further novel material. The Wassonite is apparently surrounded by "additional unknown minerals that are being investigated".
Lindsay Keller, space scientist at NASA's Johnson Space Center and "co-discoverer and principal investigator" of the transmission electron microscope used to analyse the Wassonite crystals, said: "Meteorites, and the minerals within them, are windows to the formation of our solar system. Through these kinds of studies we can learn about the conditions that existed and the processes that were occurring then."
NASA has more pics of Wassonite here (pdf). ®
Bootnote
* NASA explains: "In 1969, members of the Japanese Antarctic Research Expedition discovered nine meteorites on the blue ice field of the Yamato Mountains in Antarctica. This was the first significant recovery of Antarctic meteorites and represented samples of several different types. As a result, the United States and Japan conducted systematic follow-up searches for meteorites in Antarctica that recovered more than 40,000 specimens, including extremely rare Martian and lunar meteorites."