SpaceX unveils new Falcon Heavy rocket - WORLD'S BIGGEST
Elon Musk moves towards dream of boots-on-Mars glory
So who should NASA go to for the new "super heavy" Mars rocket? Well, just maybe the guy with the most powerful rocket in the world right now
The heavy lifter would need to be on the order of the titanic - and titanically expensive - Saturn V launchers which carried men to the Moon in the long-ago Apollo programme. The Ares V design used recycled technology from Shuttle and Apollo, burning cryogenic hydrogen fuel. Its projected expense was a major reason for the axing of Constellation.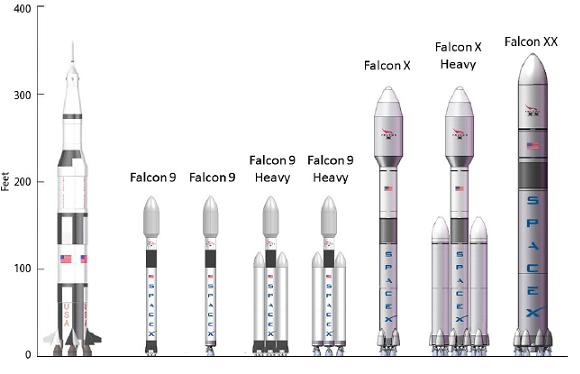 Today's 'Heavy' is one of the little ones in the middle: not to be confused with the probably upcoming Super Heavy.
Under Obama's post-Constellation plan NASA will select a new heavy lifter design in 2015, which will enable deep-space missions beyond the Earth-Moon system to be assembled. Announcing this roadmap last year, the president said:
In developing this new vehicle, we will not only look at revising or modifying older models; we want to look at new designs, new materials, new technologies that will transform not just where we can go but what we can do when we get there.
SpaceX says:
Please note that Falcon Heavy should not be confused with the super heavy lift rocket program being debated by the US Congress. That vehicle is authorized to carry between 70-130 metric tons to orbit. SpaceX agrees with the need to develop a vehicle of that class as the best way to conduct a large number of human missions to Mars.
Nonetheless it's well known that SpaceX doesn't intend to rest content with merely trumping the existing Soyuz and Delta IV Heavy. The Falcon Heavy is probably the ultimate that can be achieved using Merlin engines, but SpaceX has plans for a new and more powerful "Merlin 2" engine. Like the Merlin it would burn kerosene rather than difficult-to-handle, costly cryogenic hydrogen: as with the Merlin, this would lower the costs of rockets based on it.
A single Merlin 2 might at first be test-flown in a Falcon 9, rather as the original Merlin was initially tested in the single-engined Falcon 1. The new engine might also be used to enhance the Falcon Heavy.
But after such initial operations, clusters of Merlin 2s could be used to drive new and bigger rockets, just as clustered Merlins drive the 9 and the Heavy. A Merlin 2 version of today's Heavy, using three side-by-side lower stage nine-engine cores, would be at the upper end of the NASA super-heavy-lift requirement - indeed, if it exceeded initial projections as much as the Heavy seems likely to (the Heavy was originally predicted to carry only 30+ tonnes, not 50+) it would be much more powerful than officially required, easily eclipsing the Saturn Vs of yesteryear.
And if Musk can keep his costs down as well as he is doing so far, the Falcon X Heavy - or whatever it might turn out to be called - would also be much, much cheaper than rival super-heavies offered by the established US rocket industry which makes the likes of the Delta IV Heavy and the Shuttle. It would surely be much cheaper than the Saturn V.
It took the Space Race and former President John F Kennedy's massive personal charisma to push through enough funding for Saturn V and Apollo: that funding collapsed halfway through the Moon landings and ever since, NASA has struggled to achieve anything beyond low Earth orbit.
But if Musk can stay on track, providing lift at a sixth of his competitors' prices and scaling up all the time, even the NASA budget obtainable by some less iconic future president might genuinely suffice for a future kerosene-fuelled Apollo programme, one able to finally put a manned Mars mission - and many other exciting projects - into space at last.
Still, Musk and SpaceX will have a tough political fight on their hands when the super-heavy rocket call gets made in 2015: rocket operations on the SpaceX model mean lost jobs in vast numbers not only at Lockheed, Boeing et al but also at NASA itself - observers will have noted that the controllers of the most recent Falcon launch were not NASA employees but SpaceX ones.
Musk will need at least one successful Falcon Heavy launch under his belt if he's going to overcome the vast political clout of the established rocket industry in four years' time. But if he's in that position - operator of the most powerful flight tested launch rocket in the world, bar none - it will be very hard for anyone to say that SpaceX isn't a serious (or indeed, the most serious) contender for the job.
It looks set to be a dramatic few years ahead on the space beat. ®