Samsung BD-D6900 3D Blu-ray player and DVR combo
Does it all and then some
Review Samsung's BD-D6900 3D Blu-ray player is a curious hybrid. Not only does it play Blu-rays, DVDs and CDs but it also has a Freeview HD DVB-T2 tuner and connects to the company's new Smart TV apps portal. It will even double up as a PVR if you tether it to an external hard drive. It's not so much a disc spinner as an entertainment centre for mid-morning (rather than early) adopters.

Play it again...Samsung – the BD-D6900 ticks an awful lot of boxes
The BD-D6900 is slim. Just 33mm tall on tippy toes, the thing has barely enough fat to accommodate back-panel connections. Bear in mind that 'slimness' is not synonymous with 'designer,' even if that's what Samsung would like you to think.
Indeed, the build quality of the BD-D6900 is best described as slight. The top of the unit is finished with what appears to be a recycled biscuit tin. Needless to say, it's not comparable with some of Samsung's higher-end products.
Connectivity includes an HDMI 1.4 output, RF loopthrough, component and phono AV out, optical digital audio and Ethernet LAN. If you don't wish to use a wired network connection, there's also integrated Wi-Fi. Front and centre is a drop-down touch sensitive display, and to the right, behind a pull-down flap lurk USB and CI CAM slots.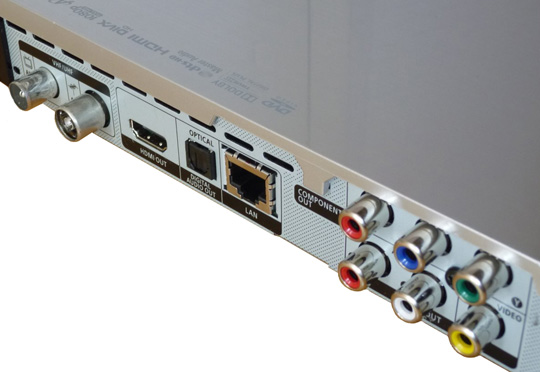 A decent array of connectivity – Wi-Fi is built-in
All the BD-D6900's functionality is accessed from a graphically rich menu. You can dial up the Smart Hub interface (from the Internet icon), stream sound and vision files from across your network or USB device (using My Devices), and fine tune the configuration from the Settings menu. The TV guide EPG is large and clear, with a live TV window top left.
Sponsored: What next after Netezza?