The X-Factor goes virtually mobile, expands voting
We're not just a TV show now
April Fools The X Factor, staple of end-of-year TV viewing, is set to launch its own MVNO with a branded handset providing discounted voting and access to exclusive X Factor content.
The X Factor Network will be a virtual network operator, and the company isn't saying who will be hosting the infrastructure, but it will have its own branded handsets and tariffs, which include bundles of TV Votes in addition to the usual minutes/text/data allowances provided by other operators.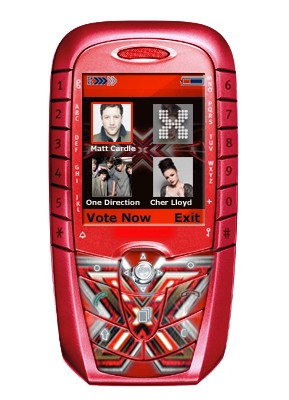 "The public loves The X Factor, and the clear branding on our handsets lets them express their interest to those around them", says the canned quote from the X Factor Network CEO Todella Tyhmä Tuote, "last year Nokia made a terrific job of adding value to the show with behind-the-scenes extras and clips of songs, but we think we can do even better in 2011".
One thing Nokia couldn't do last year was provide a phone application for voting – such things were only approved for use by UK regulator Ofcom in November, but the X Factor Network will take full advantage.
"We'll be offering customers an on-screen voting experience. They just select the performer they want to vote for and the vote is instantly, and securely, registered by the network," said Tuote. "There'll also be applications for Android and iOS to provide the same functionality, and voting by text message will remain possible."
But the secure platform isn't just being developed for The X Factor TV show. The company intends to rent out the platform to other shows, and other occasions that call for a public referendum. "We've worked hard to ensure that we can support the Alternative Vote system, so anything is possible in the future," said Tuote.
That sounds scary, but voting by text message has already been trialled in the UK, so if X-Factor Network can offer a secure platform, there seems little reason to object. The X Factor creator Cowell is very keen to get involved in UK politics, and sees the voting platform as ideally suited for the 2015 general election.
At the moment, however, Cowell is directing most of his energies towards the USA, with The X-Factor USA due to premiere there in September. Being born in Lambeth, London, the US presidency is closed to him, but come 2015 perhaps he'll be be taking part in the debates rather than just running the voting system. ®
Update
April Fools!